Interfacility & Hospital PartnershipS
INTEGRATED AMBULANCE PARTNER

Priority Ambulance specializes in building customized, innovative solutions as a foundation for a long-term relationship with our medical facility and health care system partners. We are more than a vendor but instead a dedicated partner in improving patient flow and throughput. You can trust us to be accountable, timely and friendly and bring innovative ideas for service models and technologies to ensure you remain on the forefront of transportation advances.
---
BAPTIST MEMORIAL HEALTH CARE: A CASE FOR INTEGRATION AND EFFICIENCY

When the first Baptist-branded ambulances rolled into Memphis on April 1, 2017, it was the culmination of months of work developing a uniquely integrated system that ultimately would streamline processes and increase efficiencies in patient transfers throughout Baptist Memorial Health Care's hospitals and six 9-1-1 service areas in Tennessee and Mississippi. Baptist Memorial Health Care is one of the largest not-for-profit health care systems in the country.
---
Priority Ambulance mobilizes to serve Baptist
In March 2017, Priority Ambulance signed a master services agreement to become the ambulance transport provider to Baptist and less than three weeks later Priority Ambulance had mobilized the first 10 ambulances and more than 60 employees to serve Baptist's five medical facilities in the greater Memphis area. Today, Priority Ambulance has nearly 40 vehicles and 300 ambulance employees providing medical transport to more than 30,000 patients each year.
In 2016, Priority Ambulance and Baptist began discussions to define the improvements for movement of patients needing a higher level of care located at smaller regional locations across three states with the ultimate goal of patient delivery at the right place at the right time keeping the patient as close to home as possible.

Baptist was able to leverage Priority Ambulance's EMS management expertise, its national purchasing power and the administrative efficiencies it experiences as a large national ambulance company to improve care and efficiency for our patients during medical transport. This partnership allowed Baptist to laser focus its attention on patient care and hospital operations while holding Priority Ambulance accountable for patient care and experience during transfers and medical transport.
Raising brand awareness
Another key objective of the implementation project was to leverage the vehicles for brand awareness across the established system footprint. To that end, Priority Ambulance created a new subsidiary, Baptist Ambulance, a member of the Priority family of companies that operates with ambulances under the Baptist name and logo. A final goal was to improve patient flow efficiency through transportation. This was accomplished through the integration of Priority Ambulance's dispatch center with Baptist's bed management system/transfer center at the Patient Placement Center (PPC). The integration of the systemwide Patient Placement Center and ambulance dispatch was one of the first in the country and has impacted patient movement throughout the hospital network and communities where Baptist provides 9-1-1 service. In Booneville, Mississippi, streamlined communication between the 9-1-1 communications center and hospital system resulted in a 40 percent increase in 9-1-1 transports to the closest emergency department at Baptist Memorial Hospital-Booneville.
Additionally, Priority Ambulance has been able to increase transfer volume by approximately 40 percent in Memphis since assuming operations in April 2017, and that upward trend has been mirrored at facilities across Baptist's system.
"The integration of our ambulance services to one single provider for the majority of our facilities has been a positive move for our system. The partnership with Priority Ambulance has brought industry expertise and innovation in ambulance service that has provided Baptist with the tools to stay on the forefront of technology and protocol advancements in the ever-changing health care industry."
vice president of hospital and
affiliate integration for Baptist
Memorial Health Care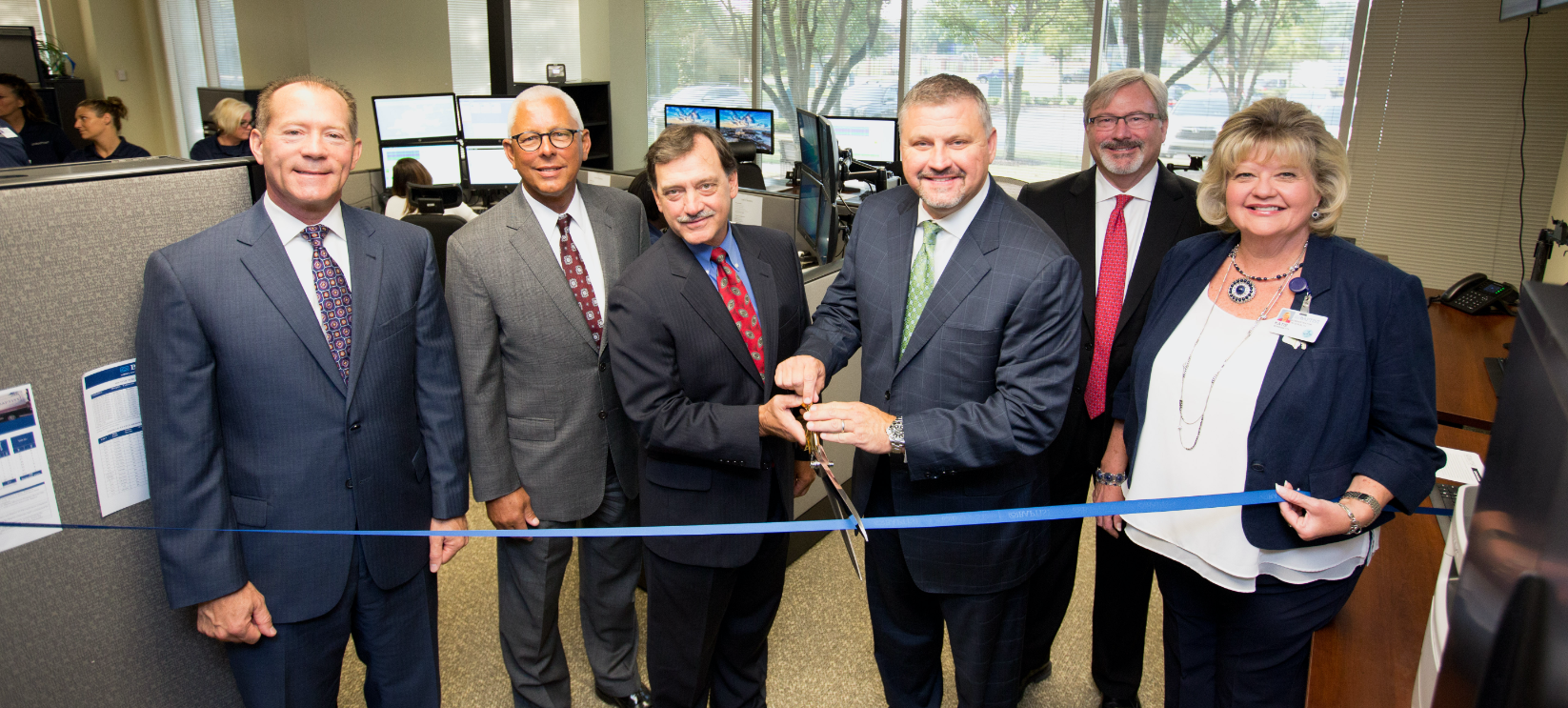 Priority Ambulance and Baptist Memorial Health Care leadership cut the ribbon to the co-located dispatch center and PPC. From left: BMHCC Vice President of Hospital and Affiliate Integration Derick Ziegler, BMHCC CEO of Memphis Division Randy King, BMHCC Executive Vice President and COO Paul DePriest, MD; Priority Ambulance CEO Bryan Gibson, Priority Ambulance Chief Growth Officer Glenn Leland and BMHCC TeleHealth Administrator Katie Morrissette.