Robin Tinberg Promoted to Director of Compliance for Priority Ambulance Family of Companies
September 7, 2023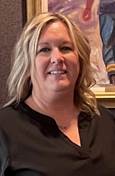 Priority Ambulance is pleased to announce the promotion of Robin Tinberg to the position of Director of Compliance. In her new role, Robin will oversee the organization's EMS regulatory compliance efforts, reporting directly to Chief Compliance Officer Diahan Underwood.
"I am very excited to have Robin join the compliance team. Our company has experienced significant growth, and Robin's addition underscores our commitment to delivering the highest quality and safest services," said Underwood.
With a background as the former Director of Billing Administration, where she managed billing functions in CADs, payer portals, and clearinghouses, Robin brings a wealth of experience to her new role. She joined Priority Ambulance in 2014, playing a pivotal role in establishing the company's billing office under Bob Jewell. Before joining Priority Ambulance, Robin worked at Rural Metro in Tennessee's billing office, later relocating to Indianapolis. Robin holds certifications in ambulance coding and compliance officer training.