Baptist Ambulance & Tipton County Fire Department Recognized for Life-Saving Interventions During Cardiac Arrest
September 7, 2023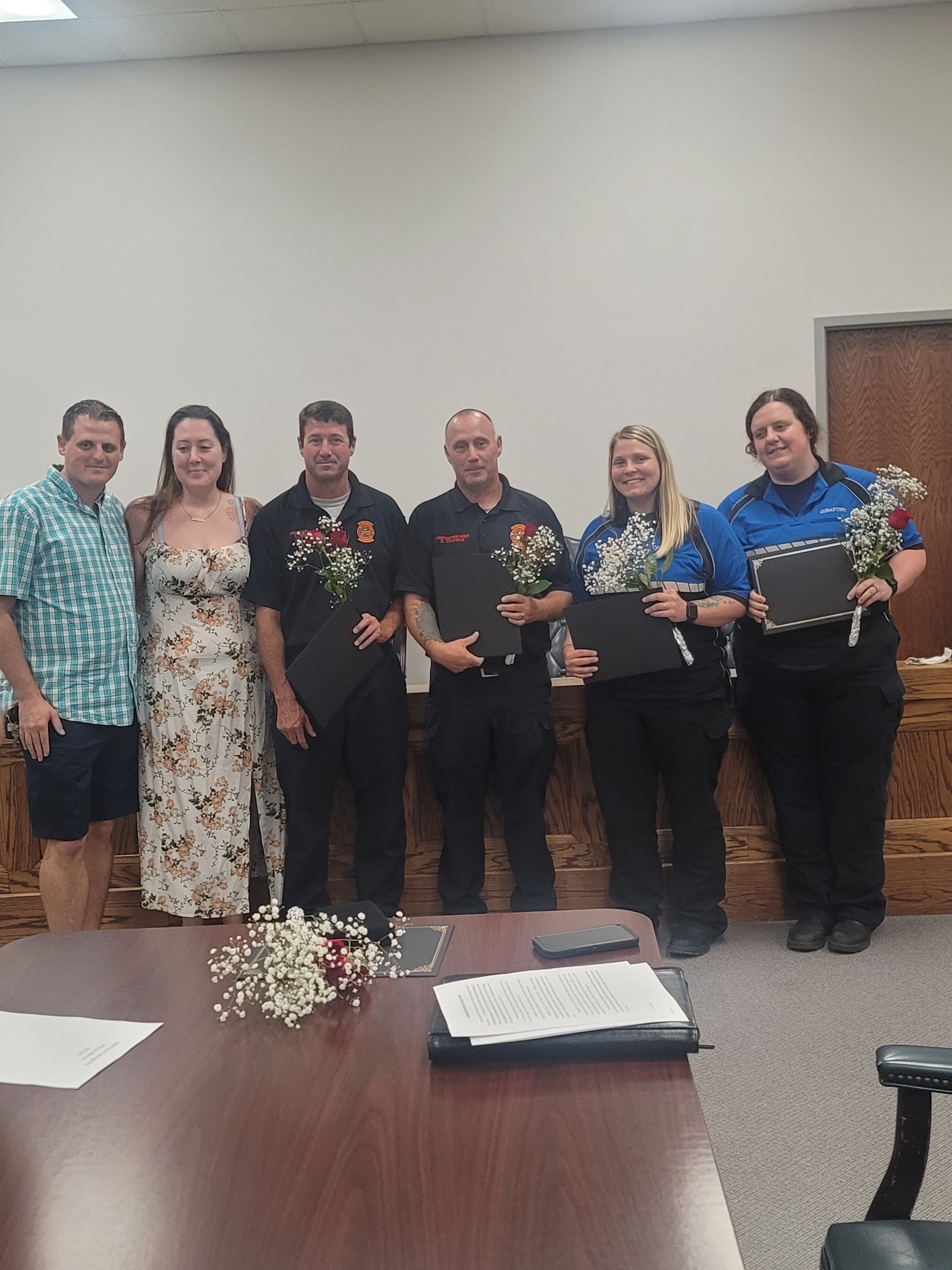 TIPTON, Tenn. (September 7, 2023)— At a meeting of the Tipton County General Welfare Committee, Baptist Ambulance and Tipton County Fire Department members were recognized for their swift actions during a cardiac arrest call earlier this year. Fire Chief Jon Piercy presented lifesaving awards to the Baptist Ambulance crew, Paramedic Shania Perry, AEMT Heather Wells, and Tipton County Fire Department members during the July 17th meeting. 
Earlier this year, Perry and Wells responded to a cardiac arrest. Upon arrival, the crew found the patient's husband performing CPR on his wife. Working quickly and collectively, Perry, Wells, and Tipton County Fire Department members were able to take over CPR compressions and defibrillate the patient to regain a heartbeat. The patient was transported to the hospital, where she was able to make her recovery.
"We train for these calls, and to see our team work so well together and with our fellow responders at Tipton Fire Department and a positive outcome for the patient is what we strive for each day," said Vice President of Operations John Brophy. "Our crews train for all kinds of medical emergencies, including out-of-hospital cardiac arrests. They know every moment counts."
Cardiac arrest is the sudden and unexpected stop of the heart, resulting in blood flow to the rest of the body being cut off. According to the CDC, more than 350,000 people in the United States suffer from an out-of-hospital cardiac arrest, with 60-80 percent of those individuals not surviving. Rapid response from emergency personnel and the initiation of high-quality CPR by bystanders and EMS professionals can drastically increase an individual's chances of survival.
Please join us in congratulating Perry, Wells, and the Tipton County Fire Department on a job well done!
About Baptist Ambulance
Baptist Ambulance is a proud member of the Priority Ambulance family of companies serving Baptist Memorial Health Care facilities and communities with 9-1-1 services and interfacility transports across Tennessee, Mississippi, and Arkansas. As a leading provider in innovative patient-centric healthcare, Baptist Ambulance serves more than 50,000 patients each year, supported by a staff of more than 350 EMTs, paramedics, dispatchers, and support staff. Since 2017, Baptist Ambulance has grown its partnership with Baptist Memorial Health Care and serves more than 12 counties across Tennessee, Mississippi, and Arkansas. For more information on Baptist Ambulance, visit www.baptistambulance.com.
# # #
CONTACTS:
Media:
Sharon Kraun 
VP-Communications 
404-326-0341 
[email protected] 
Morgan Szymczyk 
Associate Director, Corporate Marketing & Communications 
540-940-9423
[email protected]