Puckett EMS Generously Donates Two 2013 Mercedes Sprinter Vehicles to SafeAmerica VET Tran Program
August 22, 2023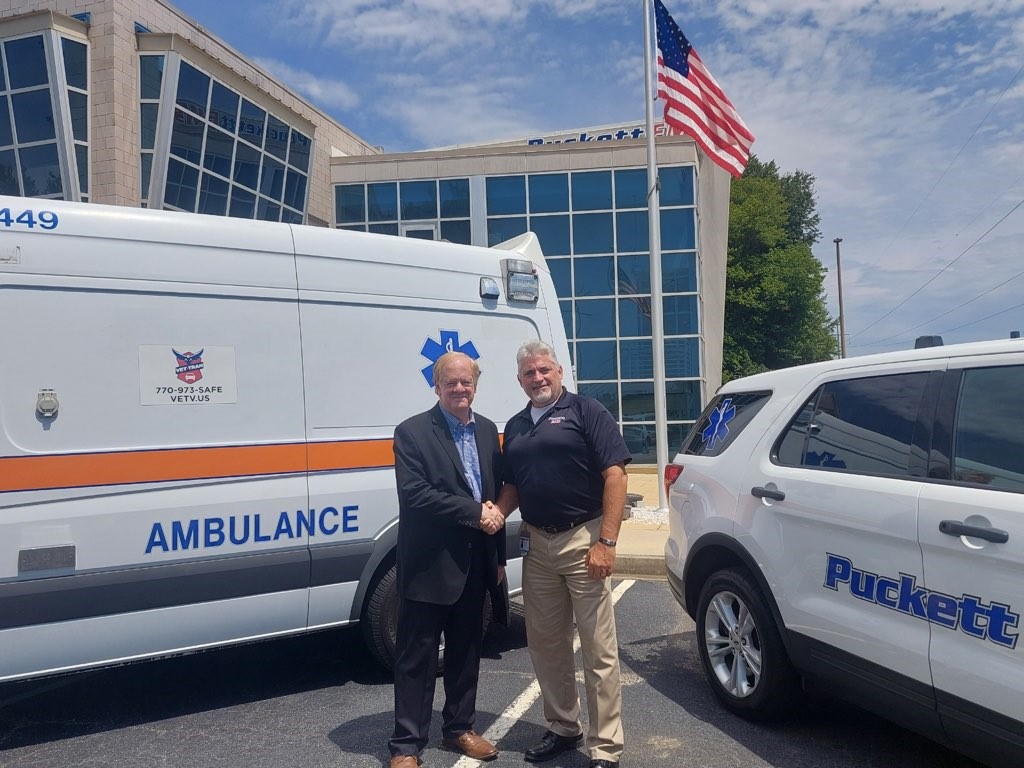 Chattanooga, TN (Aug 22, 2023) – Puckett EMS, a member of the Priority Ambulance family of companies, is pleased to announce its latest contribution to the community by donating two 2013 Mercedes Sprinter vehicles to the SafeAmerica VET Tran program. The total value of these charitable donations amounts to $50,000.
The SafeAmerica VET Tran program is dedicated to supporting and empowering veterans by providing reliable transportation services to assist them in accessing essential resources and services. Puckett EMS recognizes our veterans' immense sacrifice and commitment and aims to give back to those who have selflessly served our country.
The 2013 Mercedes Sprinter vehicles will significantly enhance the capacity of the SafeAmerica VET Tran program, ensuring that more veterans receive the assistance they need to lead fulfilling lives post-service. These vehicles will assist in transporting veterans to medical appointments, job interviews, and various community support programs.
"It is a great honor to contribute to the SafeAmerica VET Tran program and support our nation's veterans," said Jake Lonas, Vice President, Operations at Puckett EMS. "By donating these vehicles, we hope to make a meaningful difference in the lives of those who have served and sacrificed for our country. We are proud for Puckett EMS to participate in this crucial initiative."
The partnership between Puckett EMS and the SafeAmerica VET Tran program reflects a shared commitment to the welfare of veterans and a dedication to fostering a stronger, more inclusive community.
"Thanks to Puckett EMS, SafeAmerica will be able to help thousands of veterans – and get keep them alive," noted SafeAmerica CEO Len Pagano. "We're proud of Puckett EMS donation and we'll do more together – over the next decade in Georgia and around the U.S. – to keep men and women from the military safe."
About Puckett EMS
Puckett EMS provides 911 emergency and critical care ambulance services to the citizens of Southwest Cobb, Walker, Dade, and Catoosa counties located in North Georgia and Marion and Sequatchie counties in Southeast Tennessee. Puckett EMS also serves as the contracted ground transport for multiple Hospital Systems. Puckett EMS is accredited by The Commission on Accreditation of Ambulance Services (CAAS), which signifies that the service has met the gold standard of the ambulance industry. Puckett EMS is one of only 160 CAAS-accredited services nationwide. The agency has also been recognized eight times as a top business in Cobb County.
Puckett EMS joined the Priority Ambulance family of companies in 2017.
# # #
CONTACTS:
Media:
Sharon Kraun
VP-Communications
404-326-0341
[email protected]
Morgan Szymczyk
Associate Director, Corporate Marketing & Communications
540-940-9423 
[email protected]