Greg Shore, Founder of Medshore Ambulance, Named Recipient of Duke Energy Citizenship and Service Award
July 6, 2023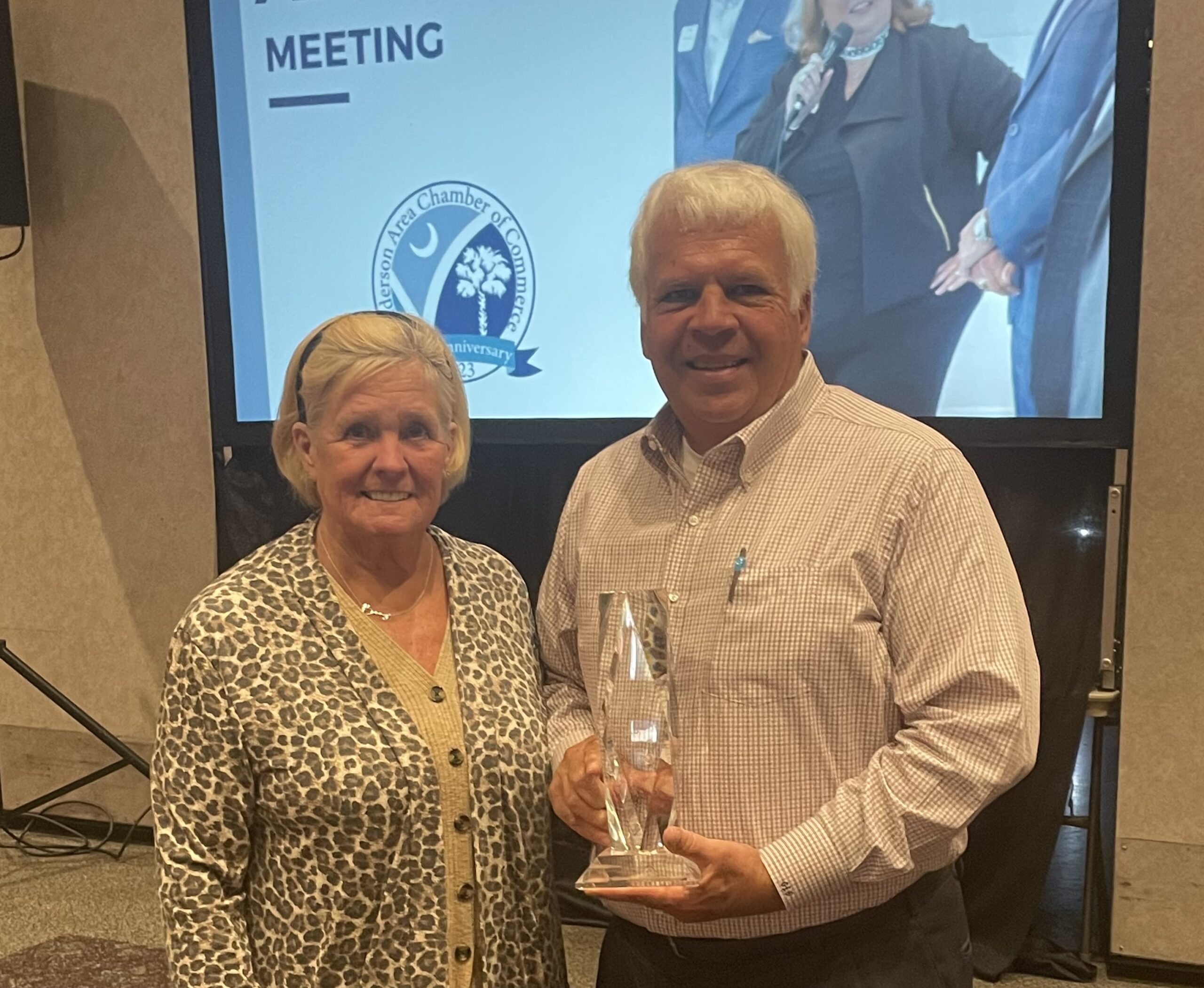 ANDERSON, SC (July 03, 2023) — Medshore Ambulance announced today that its founder, Greg Shore, was named the 2022 Duke Energy Citizenship and Service Award recipient at this year's Anderson County Area Chamber of Commerce meeting.
The Duke Energy Citizenship and Service Award recognizes an individual or organization demonstrating outstanding volunteerism and community service. Recipients of the award are recognized as an activist in their community whose involvement and service has positively impacted the lives of others. The Duke Energy Citizenship and Service Award is the most prestigious award presented at the annual chamber meeting.
"We are honored to be able to help celebrate this remarkable achievement with my dad," said Josh Shore, Vice President of Strategic Projects and Governmental Affairs for Medshore Ambulance. "For more than four decades, he has dedicated his life to this community and has created a lasting impact that will continue to positively influence Anderson County and the surrounding areas as we carry on his commitment to giving back to our communities."
Greg Shore, who has more than 40 years of experience in the EMS field, has been a visionary leader in the community since founding Medshore Ambulance in 1976. The company became the first ambulance service accredited in the state by the Commission on the Accreditation of Ambulance Services (CAAS) in 2001. Shore's legacy at Medshore continues to impact the community today, as the company serves more than 100,000 patients annually throughout South Carolina.
In addition to his contributions to the medical field, Shore has become a local advocate for many social issues, including drug addiction, mental health, and homelessness. Collaborating with numerous local agencies, Shore is committed to finding innovative and effective ways to educate the public.
Pamela Christopher, President & CEO of the Anderson Area Chamber of Commerce, said, "It was our honor to award Greg Shore the Duke Citizenship and Service Award for his constant dedicated service to Anderson County, our Region, and the State of South Carolina. It has always been Greg's focus to provide exceptional service to our citizens and meet those in need wherever they may be in life. However, Greg goes the extra mile in exploring ways that we can bring about services to counteract the causes that are leading our people to substance abuse and drug dependence, and addiction. He realizes that we must find a resolution so that our people don't continue a path that is detrimental to their health, future, and family. Greg Shore leads with passion and concern for all our citizens and truly is the most amazing servant leader I have known. He is always doing what he can to lift others up and to find ways to protect and provide for our citizens. May we all learn from Greg Shore's example and strive to lead with more resolve in helping others and providing a better future for all!"
About Medshore Ambulance
Medshore Ambulance is headquartered in Anderson, South Carolina, and serves more than 100,000 patients annually with more than 100 ambulances and support vehicles. The company specializes in 911 emergency medical transports, non-emergency service between hospitals and other care facilities, and special event coverage, including community support services. Founded in 1976, Medshore Ambulance is the largest privately-owned ambulance service in South Carolina and is the 911 service provider to Anderson, Barnwell, Bamberg, Sumter, Lexington, and Richland counties. The company employs more than 500 EMTs, paramedics, and support staff. For more information, visit www.medshore.com.
# # #
Photo attached. Pictured (L to R)
Robin "Bunny" Shore and Greg Shore
CONTACTS:
Media:
Sharon Kraun
VP-Communications
404-326-0341
[email protected]
Morgan Szymczyk
Associate Director, Corporate Marketing & Communications
540-940-9423 
[email protected]