Celebrating emergency responders during National EMS Week
May 24, 2023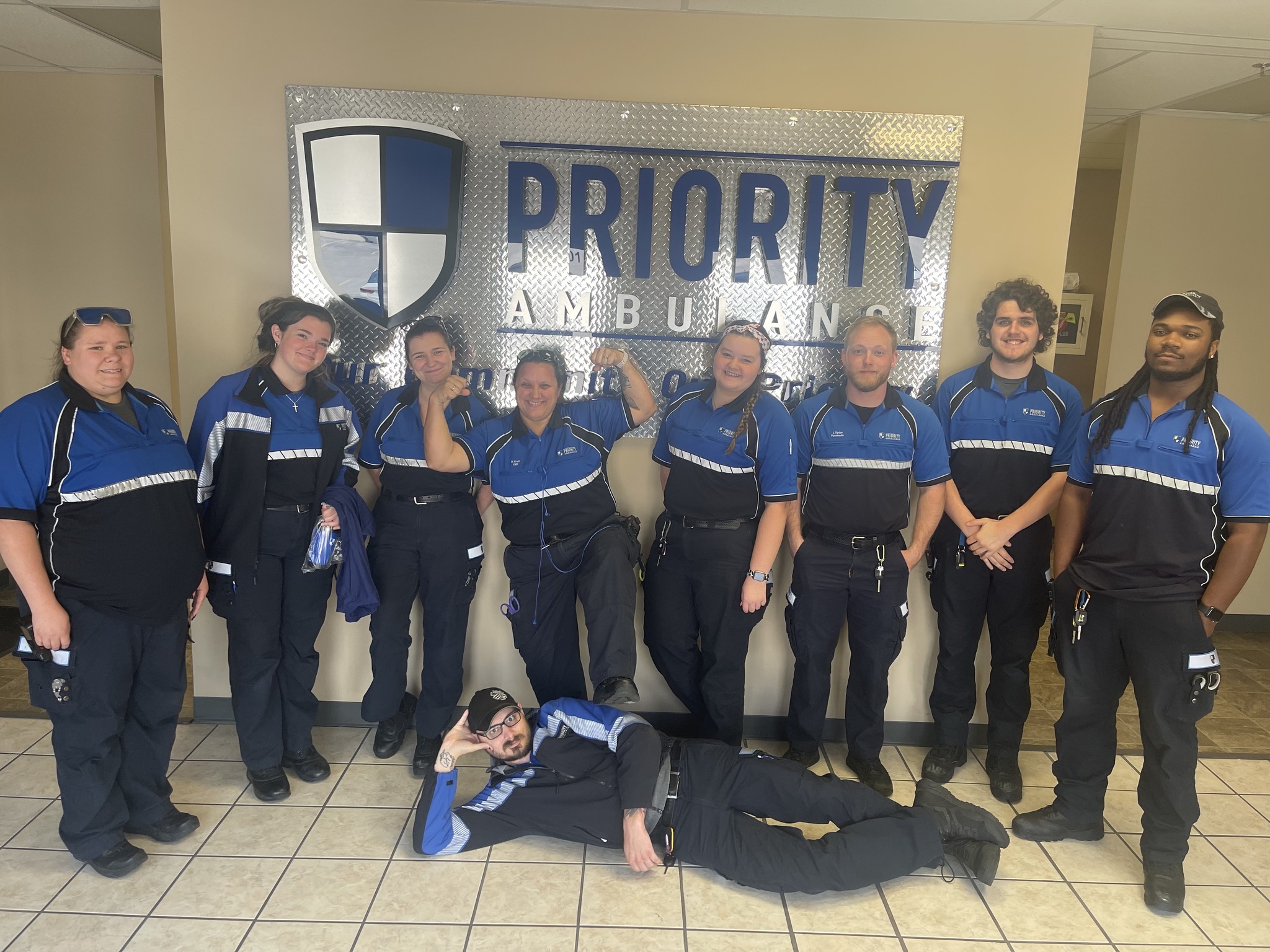 May 21-27, 2023, is the 49th annual National EMS Week, which recognizes emergency medical services practitioners and the crucial role they play in our communities. At Priority Ambulance, we appreciate our 4,000 highly trained Emergency Medical Services personnel every day, and it's great to have a special week to honor emergency responders and shine a spotlight on why their role is so vital.
This year's national EMS Week theme is EMS: Where Emergency Care Begins, and it's truly fitting because EMS personnel are usually the first people you'll see in an emergency situation. They have the skills and training to assess, triage, stabilize, treat and transport patients. They are compassionate people who, at their core, want to help others. They make a difference in other people's lives every day.
Rob Webb, Priority Ambulance's vice president of operations in Tennessee, shares "You have to have the right heart to be an EMS professional such as an EMT or paramedic. It's hard work, but one of the most rewarding things you can do. And it's not always trauma or medical procedures – sometimes an EMT's most important job is holding the hand of a lonely elderly person during a stressful time."
During National EMS Week, Priority Ambulance is celebrating in the East Tennessee region by providing meals to teams, including breakfast and cookouts. We'll distribute T-shirts and mugs and have a door prize drawing. On days we're not cooking, there will be baskets around the building with snacks and sweets. We want to send a clear message of support and appreciation for all EMS staff.
Have you considered a career as an emergency responder?
Currently, there is a national shortage of EMS personnel, including EMTs, and it's a great time to enter the field. There are many reasons to consider a career as an EMT – and even more reasons that you should thank the emergency responders that you know!
"People who like to interact with people from all walks of life, who don't like being confined to an office and who enjoy being in a different environment every day may enjoy a career as an EMT," said Robyn Asher, professional development manager. Robyn is an instructor who trains local EMS personnel in the company's EMT Academy in Knoxville.
She continues, "EMS teams respond to 9-1-1 calls and safely transport patients to a medical facility for additional treatment if needed. They also provide transport for patients moving between healthcare facilities, for dialysis patients and more. You can start a career as an EMT with no prior training or experience. If you have a high school diploma or equivalent, you can work as a driver until EMT Academy starts, then get paid while you attend 10 weeks of classes, provided free of charge by Priority Ambulance. Every student in our last class passed their certification exam on the first try!"
Additional training can lead to becoming an AEMT – or advanced EMT – or a paramedic, who performs more advanced lifesaving procedures. At Priority Ambulance, benefits include 401k, competitive pay, insurance, special programs for members of the military, relocation packages and lots of options for flexible shifts. Our Priority Ambulance teams across the country complete more than 600,000 annual transports. We have A LOT to celebrate during National EMS Week. If you or someone you know has questions about becoming an EMT or available positions, please call 865-888-5195 or visit the careers page at priorityambulance.com