Baptist Ambulance rolls out 911 telehealth and treat-in-place under new program for TennCare patients
February 17, 2023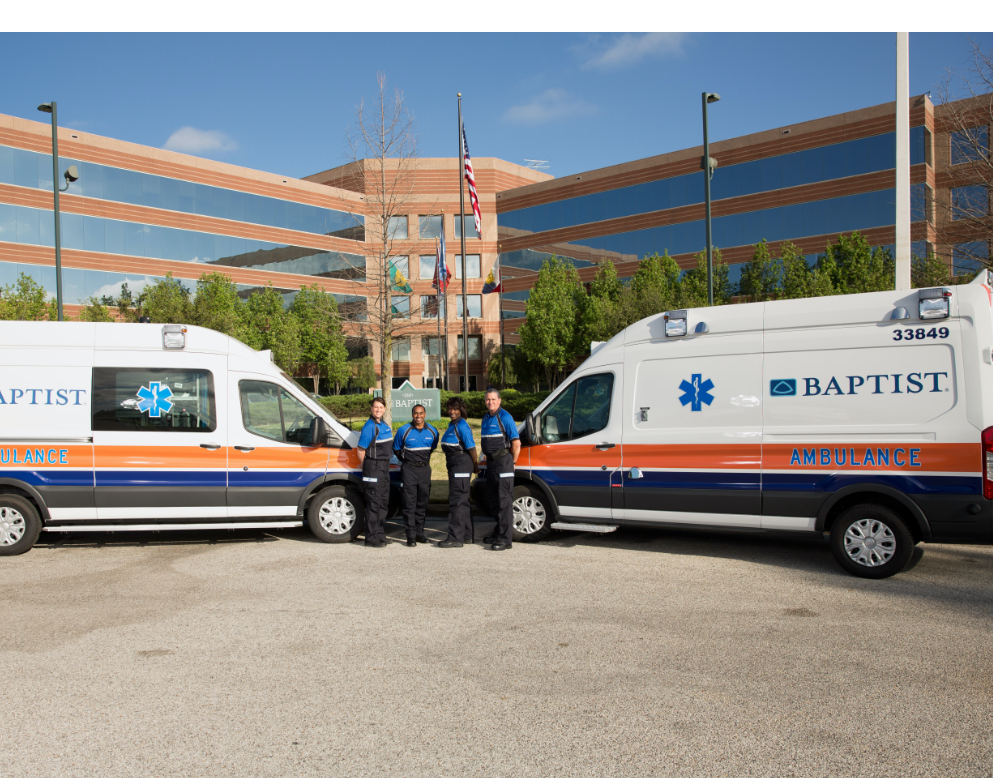 Innovative program will help ease ER overcrowding, generate millions in TennCare savings
CORDOVA, Tenn. – Baptist Ambulance announced today that it has begun providing telehealth visits this week to TennCare patients who call 911 with low-acuity injuries or illnesses in Tipton, Obion and Carroll counties under a new TennCare program that allows first responders to treat non-urgent patients on-scene.
The pilot program is in conjunction with Baptist Ambulance's parent company, Priority OnDemand, and utilizes its OnDemand Visit telehealth platform to deliver immediate, 24/7 access to 911 first responders for low-acuity telemedicine visits for TennCare patients.
The program is the result of a new TennCare program that took effect Jan. 1 2023 that allows on-scene treatment and telemedicine during 911 responses for TennCare patients with non-life-threatening needs. The TennCare program is called "Triage, Navigate, Treat, Transport," know as TN-T2.
"Envision 911 ambulances that arrive with doctors and nurse practitioners available via telehealth," Bryan Gibson, Chief Executive Officer. "With the support of the state, it's now possible for us to shift the paradigm of emergency services delivery for our TennCare population. Through a combination of our highly trained first responders and our proprietary OnDemand Visit telehealth technology in all ambulances, we are instantly able to deliver the most appropriate level of care to people who traditionally have had low access to urgent care or even primary care services."
The program will allow TennCare to reimburse qualified first responders, such as 911 ambulance service agencies and fire departments, to treat non-life-threatening calls outside of the emergency room.
"The new structure will help many patients receive the care they need where they need it, when they need it and avoid emergency room visits when the patient's condition doesn't medically require that level of care," Gibson added. "Added value comes from reducing unnecessary visits to already crowded emergency rooms."
Tammy Mihm, managed care compliance director for TennCare, is overseeing the development and implementation of the TN-T2 program for TennCare. Once implemented statewide, the new program is estimated to save more than $8 million annually in TennCare expenses.
"Access to all levels of care is crucial for our members, and the TN-T2 program is designed to add another avenue of access," Mihm said. "As first responders statewide adopt the program, we expect to see a reduction in the number of TennCare patients being unnecessarily transported to emergency rooms for low-acuity injuries and illnesses. Such patients could instead be treated on the scene or at an alternate site like an urgent care clinic. Over time, we anticipate better patient outcomes, cost savings statewide and, as a result of the improved flow of patient transportation, the overall emergency healthcare system should benefit as well."
About Baptist Ambulance
One of the nation's largest not-for-profit health care systems, Baptist Memorial Health Care offers a full continuum of care to communities throughout the Mid-South and Central Mississippi. The Baptist system, which consistently ranks among the top integrated health care networks in the nation, comprises 22 affiliate hospitals in West Tennessee, Mississippi and East Arkansas; more than 5,400 affiliated physicians; Baptist Medical Group, a multispecialty physician group with more than 800 providers; home, hospice and psychiatric care; minor medical centers and clinics; a network of surgery, rehabilitation and other outpatient centers; and an education system highlighted by Baptist Health Sciences University. The Baptist system employs more than 19,100 people, and in fiscal year 2020 contributed more than $352 million in community benefit and uncompensated care to the communities it serves. The Sparks Bureau of Business and Economic Research at the University of Memphis estimates that Baptist Memorial Health Care's annual economic impact is more than $2.6 billion. For more information, please visit www.baptistonline.org.
About Priority OnDemand
Built on a proven foundation as a national leader in EMS and medical transportation, Priority OnDemand's expert healthcare services and technology solutions create important connections across the continuum of care that solve challenges and increase efficiencies for patients, providers, hospitals and healthcare facilities, communities, and insurers. Priority OnDemand offers solutions across three interconnected businesses: EMS & Medical Transportation, Telehealth and Patient Logistics. The Priority OnDemand team consists of more than 4,000 healthcare services professionals who impact the lives of more than 830,000 patients annually. For more information, please visit www.priorityondemand.com.