Seals Ambulance Team Named "EMS Crew of the Quarter" by Franciscan Health
January 23, 2023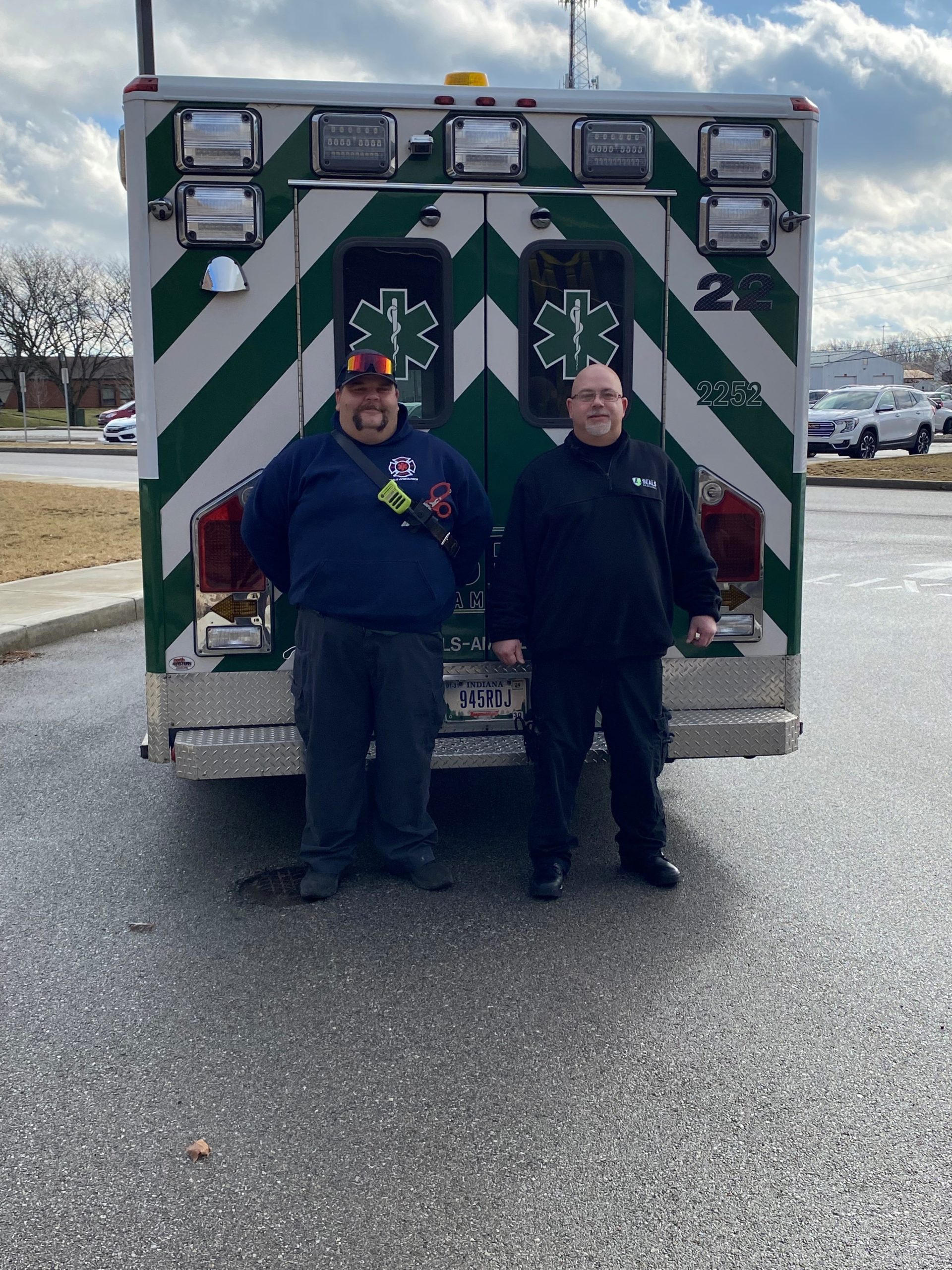 Pair Commended for Response to Patient Suffering from a Traumatic Brain Injury
"It is what we are trained to do." Those eight simple words are within the hearts of all first responders, who each day wake up with a commitment to make their communities a better place. While those words might seem simple, the strength and power of the actions behind them can make all the difference to the patients we care for.
Seals Ambulance Paramedic Ronald Winkle and EMT Jesse Scrogham were recognized recently by the Franciscan Health Indianapolis for their response to a patient suffering from a traumatic brain injury. The hospital commended their quick actions, which saved the patient precious minutes that could have been critical.
"Combined, Ron and Jesse represent 45 years of EMS experience in general and 30 years of service with Seals Ambulance," said Michael Roethler, Regional Director of Training. "Both continue to excel at providing exceptional care to the residents of the City of Franklin and the surrounding communities that they serve. They are highly trained for these kinds of calls, and we are proud to have them as part of our team."
When Winkle and Scrogham arrived on the scene of the call, they found an unresponsive male patient at the bottom of a staircase. Assessing the situation quickly, they noted the patient was on blood thinners and promptly provided proper medical procedures, including applying a C-collar, securing the patient to a backboard, and completing a head-to-toe trauma assessment.
While enroute to the hospital, the crew alerted Franciscan Health Indianapolis Emergency Department of the Trauma Alert. This early notification, allowed for the hospital's Trauma Team to be prepared for the patient as soon as they arrived, saving the patient precious minutes that could have been critical. The patient was diagnosed with a Traumatic Brain Injury (TBI).
Traumatic Brain Injury (TBI) accounts for 2.5 million emergency department visits each year. Often the first on scene responders play a vital role in ensuring patients with possible TBIs are treated appropriately and rapidly – as early, intervention and management of a TBI can be one of the most effective ways to reduce the severity of the injury.
Please join us in congratulating Ron and Jesse! Their expert skills and knowledge during this trauma call is just one example of our exemplary team across the nation.