Baptist Ambulance Paramedic Fulfills Dream of Giving Back to his Community
January 23, 2023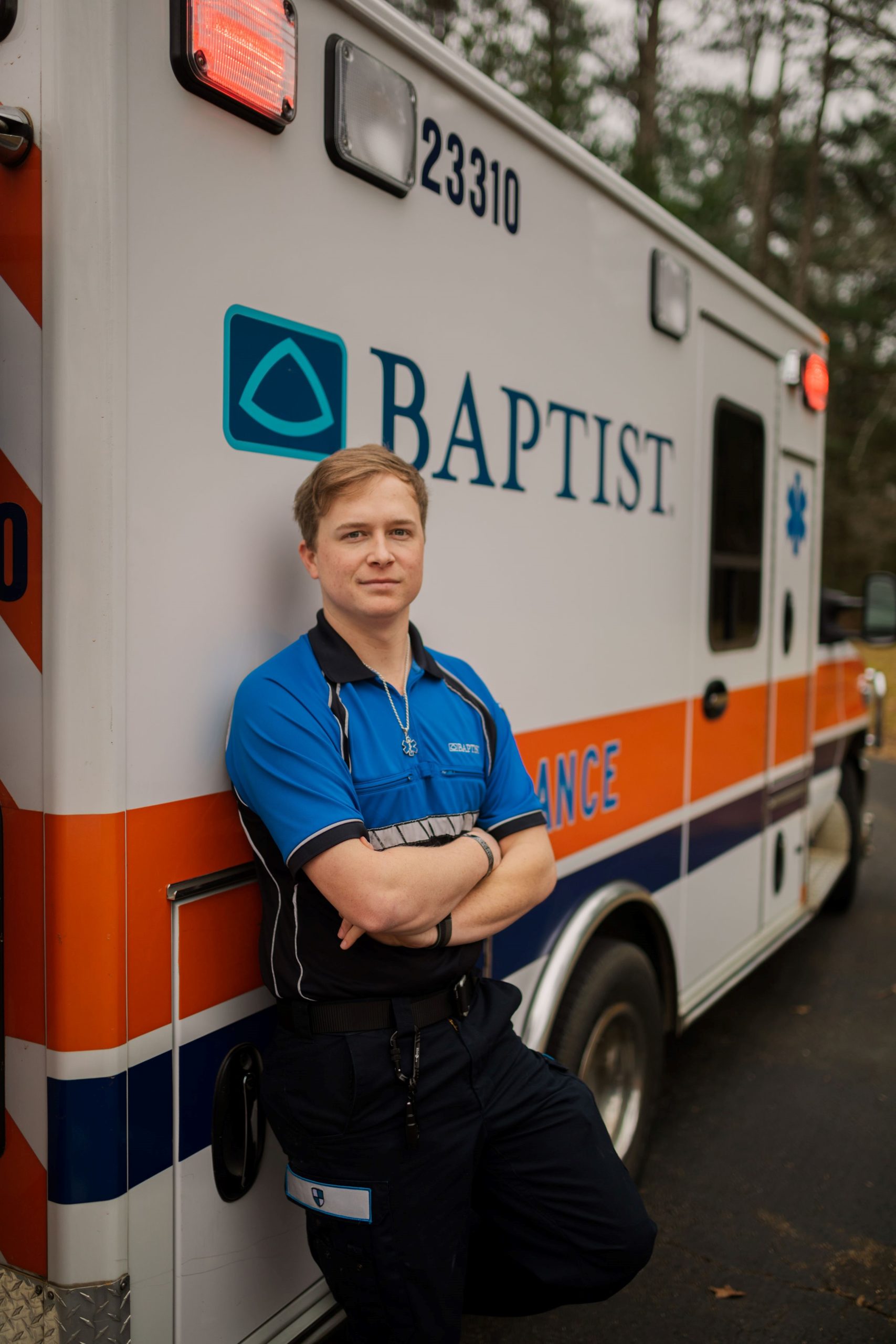 KOSCIUSKO, Miss. (January 19, 2023)— Dreams do come true. Just ask Baptist Ambulance Paramedic Harrison "Webb" Roberts, whose childhood dream of giving back to his community came true when he earned his paramedic certification.
Roberts has been a member of the Baptist Ambulance team since June 2020, when he applied to be an ambulance driver. Soon thereafter, he enrolled at Holmes Community College to obtain his EMT, EMT-Advanced and Paramedic certification.
"Baptist is a big family. When you walk into here, you are greeted as family. We take care of each other," Roberts said. "The entire health care system, fire, police, the hospitals, we may be called something different, but at the end of the day, we have the same goal."
A native of Duck Hill, Mississippi, Roberts dreamed of giving back to his community since he was six. In and out of hospitals and doctor's offices, Roberts was diagnosed with a benign tumor behind his left ear at an early age. After doctors successfully removed the tumor, he was left with permanent hearing loss in his left ear. Nevertheless, Roberts was determined to follow through with his dream of giving back to the community.
In early 2020, Baptist Ambulance a member of the Priority Ambulance Family of Companies was selected to provide 911 Ambulance Services to Attala County. Later that year, Roberts joined the Baptist team. He recalled when his uniform did not come in on time for his first shift, his co-workers delivered a uniform to his house to ensure he felt prepared and welcomed, setting a precedent for his newfound EMS home.
"We are extremely proud of Webb and all of his accomplishments," Tony Anteau Regional President of Priority Ambulance said. "All of Webb's supervisors and co-workers describe him as truly eager to learn and give back to his community. He is a success story exemplifying how arduous work, dedication and compassion and kindness can drive an individual to success. Webb is not only a remarkable employee, but a committed provider and a mentor for our EMT Academy students and new employees to look up to."
Baptist Ambulance along with Priority Ambulance Family of Companies is honored to be able to provide financial assistance to those pursuing their Paramedic certification. In addition to tuition assistance, the company also offers EMT Academy training courses which include an eight-week accelerated EMT class. Students selected for the course will have their training costs including uniform and books paid for and offered a Full-Time EMT position after successfully obtaining their EMT certification.
Roberts said he would not have been able to financially afford to get his Paramedic certification without Baptist's Paramedic Tuition program. With Paramedic programs costing $10,000 for many programs, oftentimes those wanting to pursue a career in EMS have difficulty.
In Webb's spare time he loves spending time in the outdoors, going to church, and spending time with his fiancée and planning their wedding this fall.
"I want to thank everyone in the company, my co-workers and friends in Oxford and Kosciusko for all their support. We are a family here and the support means so much," said Roberts.
Baptist Ambulance and the Priority Ambulance Family of Companies are looking for more compassionate and committed individuals looking to making a difference in their community. Start your EMS career today by going to www.priorityambulance.com/careers.
About Baptist Ambulance and Priority Ambulance
Baptist Ambulance serves more than 40,000 Baptist patients each year under the Baptist Ambulance name. The company serves 15 Baptist hospitals and medical facilities and 10 communities with 9-1-1 service in Tennessee, Mississippi, and Arkansas. In Mississippi, Baptist serves Attala, Calhoun, Chickasaw, Desoto, Lafayette, Prentis, and Union counties. For more information on Baptist Ambulance, visit www.baptistambulance.com.
Priority Ambulance is a dynamic, rapidly growing health care company with medical transportation operations in 14 states and has been listed for five consecutive years on the Inc. Magazine's list of the 5000 Fastest-Growing Private Companies in America. Priority Ambulance's EMTs, paramedics, nurses and support teams deliver exceptional patient care and customer service to approximately 600,000 patients each year. Throughout its national service area, approximately 4,000 highly trained paramedics and EMTs staff a fleet of more than 850 state-of-the-art ambulances and support vehicles. For more information on the Priority Ambulance family of companies, visit www.priorityambulance.com.
# # #
CONTACTS:
Media:
Morgan Szymczyk
Associate Director, Corporate Marketing & Communications
540-940-9423 
[email protected]