WITH DEEPEST SYMPATHY, WE MOURN THE LOSS OF CENTRAL EMS EMT-I GINA AYRES
November 17, 2022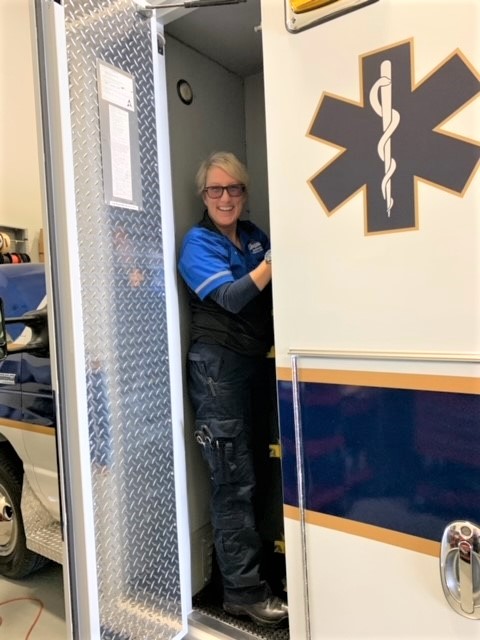 It is with the deepest sadness that we inform our Central EMS team and the entire Priority family of the passing of longtime EMT-I Gina Ayres today. Gina was a beloved member of the Central EMS family, and we are devastated by her loss. Our hearts and prayers are with Gina's family and colleagues throughout this difficult time.
Gina and her partner, Paramedic Kristi Adams, were responding to a 911 call in Forsyth County early this morning when their ambulance was struck by another vehicle. We also extend our heartfelt prayers and support to Kristi as she recovers from non-life-threatening injuries she sustained in the accident.
Gina was an extraordinarily dedicated EMT and was a respected member of the Forsyth County 911 response team. She joined the Central EMS family in 2011 and celebrated her 12th anniversary with the company on November 9th. She dedicated her life to EMS since the day she was certified as an EMT in 2010.
Gina was 57 when she passed and is described by her colleagues as a caring, compassionate and dedicated EMS professional who wanted nothing more than to serve her community. She had a huge personality, and words cannot describe how strong, passionate and loving she was. Gina also had a heart for children and the less fortunate, volunteering at local schools and sitting with patients in nursing homes.
Please keep Gina's husband, Forsyth County Deputy Sheriff Tony Saindzier, and their two adult daughters, Abigail and Corinne, in your prayers as they go through this very tough time. They will need the strength and support of our entire team as we grieve the loss of Gina together.
We have extended our support to Gina's loved ones, as well as Kristi and her family, to assist them in their time of need. We do not yet have details on funeral arrangements and will pass that information along to our team as soon as we have the details.
Forsyth County Fire Department Station 1 will have an open house with an on-sight grief counselor until further notice. The address is 234 Castleberry Industrial Drive, Cumming, GA 30040.
Our company's Public Safety Employee Assistance Program also is here to help with counseling and support if needed. If you have not already done so, please register with at the EAP by going to: https://www.theeap.com/public-safety-eap. Once registered, for counseling assistance, call 1-888-327-1060.
Godspeed, Gina. You will truly be missed by your Central EMS family