National EMS marks 30 years of national accreditation
May 21, 2022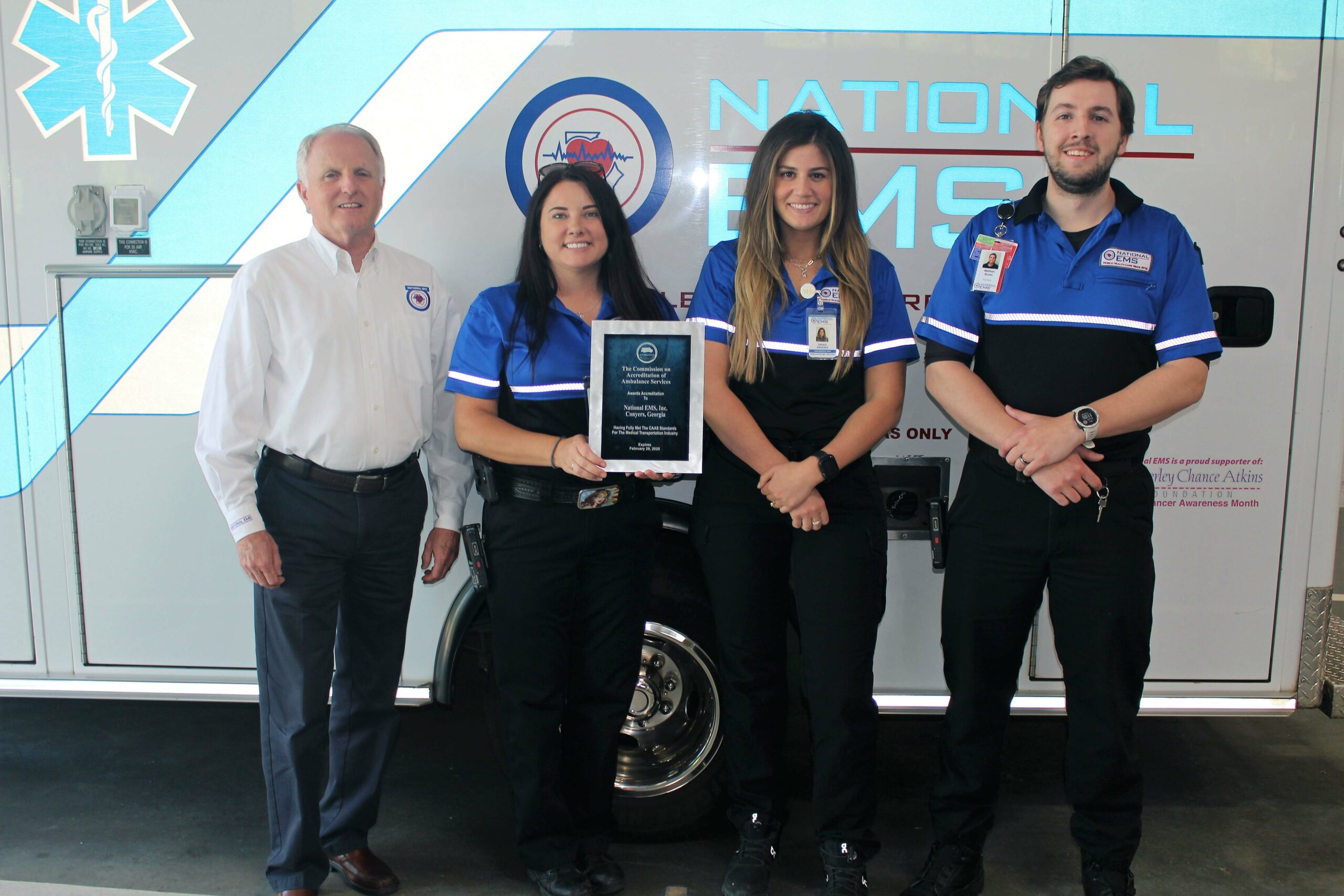 Georgia EMS agency receives perfect score for three-year recertification
National EMS recently renewed its national accreditation from the Commission on the Accreditation of Ambulance Services (CAAS), a designation that signifies that an EMS agency has met the gold standard of the ambulance industry.
Of the 10,000 EMS providers nationwide, National EMS is among 193 accredited agencies nationwide and nine accredited providers in Georgia. National EMS was among the first CAAS accredited agencies and has maintained its accreditation for 30 years undergoing a recertification process and onsite evaluation of all aspects of its operation every three years.
"Our CAAS accreditation continually certifies to our communities that National EMS meets high standards of excellence and delivers excellent emergency response and patient care," said National EMS Vice President of Operations Huey Atkins. "The accreditation benchmarks our team with agencies across the country in all aspects of EMS operation and management. During our recent three-year evaluation, we received a perfect score from the onsite evaluation team – an achievement that we also received in 2016 and 2019."
National EMS began operations in 1976 and now provides 911 emergency, critical care and interfacility response to five contiguous Georgia counties, encompassing Athens-Clarke, Oconee, Rockdale, Morgan and Newton counties. National EMS provides 911 response to a combined population of more than 400,000 Georgians.
National EMS has served Rockdale County since 1983 and Morgan County since 1988. In 2009, National EMS has contracted directly with Piedmont Athens Regional Medical Center and with St. Mary's Hospital to expand to Athens-Clarke and Oconee counties. The hospitals have been the 911 ambulance zone provider for more than 50 years. In 2021, National EMS partnered with Piedmont Newton Hospital to provide 911 response to the hospital's 911 ambulance zone in Newton County.
National EMS is a community servant and industry leader and has received both regional and statewide EMS of the year awards. National EMS is a member of the Priority Ambulance family of companies – the largest EMS organization in the state of Georgia. For more information, visit www.nationalems.com.
Photo: From left to right: National EMS Vice President of Operations Huey Atkins, EMS Commander/Paramedic Jill Byram, EMT-Advanced Erika Brooks and Paramedic Matt Brown.