Chandler Fire Department introduces new 9-1-1 ambulance partner, unveils new custom-built ambulance fleet, system upgrades
January 4, 2022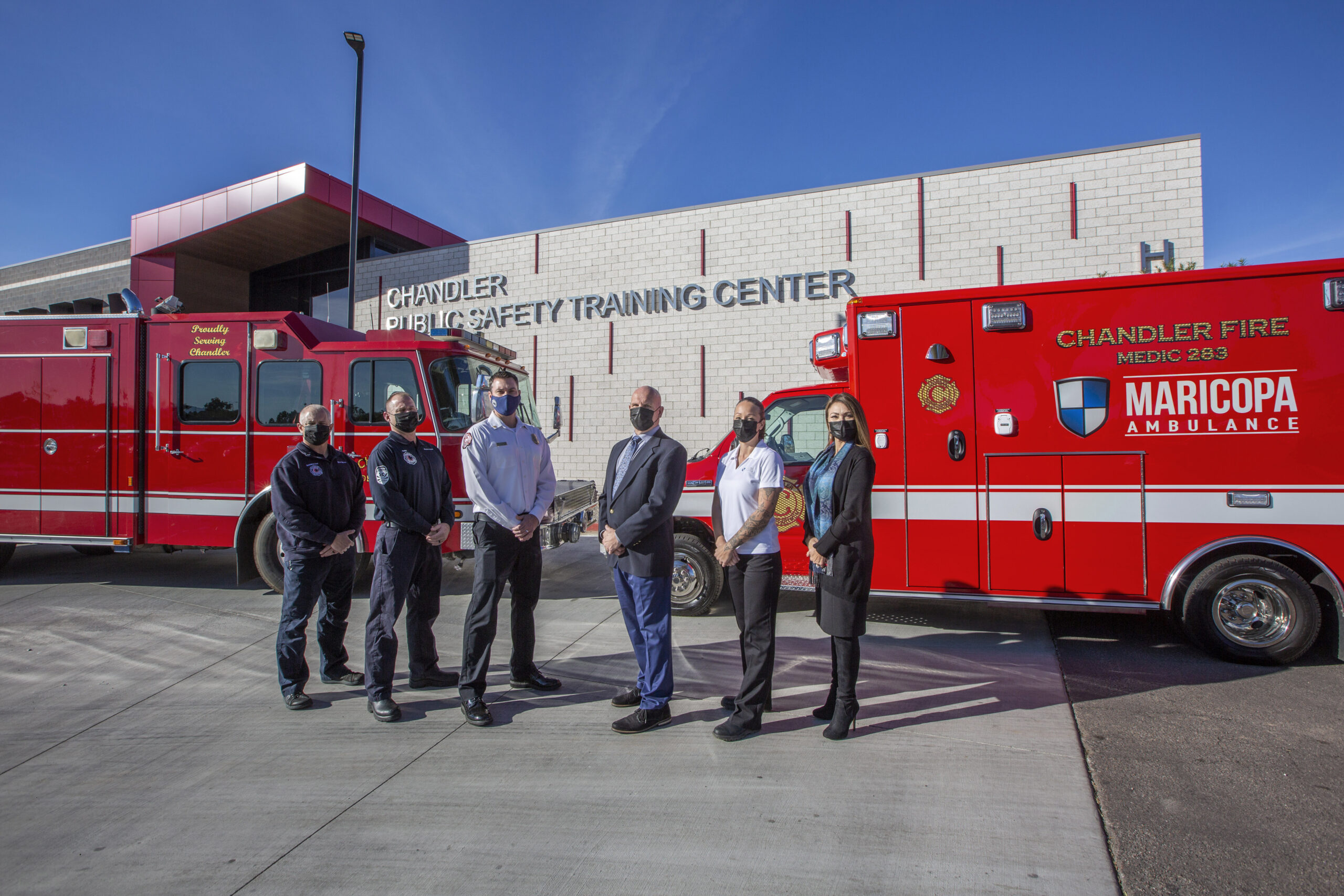 Maricopa Ambulance to begin responding to all 9-1-1 calls on Friday, January 7
CHANDLER, Ariz. – The Chandler Fire Department and its new ambulance partner, Maricopa Ambulance, are making final preparations this week to rollout a system that will enhance the city's 9-1-1 emergency medical response and introduce a new fleet of ambulances.
On January 7, Maricopa Ambulance will begin responding to 9-1-1 calls in the City of Chandler under a new contract and collaborative system with the Chandler Fire Department that will increase staffed ambulance resources, introduce new advanced medical equipment and elevate 9-1-1 response within the city.
"The Chandler Fire Department did great work in constructing a public-private partnership that efficiently and effectively provides best-in-class emergency ambulance service for Chandler residents and businesses," Chandler Mayor Kevin Hartke said. "This new contract offers improvements in several significant areas. With more ambulances in the City of Chandler, residents have even greater security knowing that they can rely on our ambulance service in their time of need."
"Our No. 1 priority is to make sure we're responding to our residents and businesses in a safe and timely manner," said Chandler Fire Chief Tom Dwiggins. "In Maricopa, we found an ambulance partner that has been eager to collaborate with us in our mission to provide the best emergency medical care to the City of Chandler. We are excited to be able to deliver several key improvements and upgrades to the City's emergency response through this new contract and look forward to the future."
The partnership with Maricopa Ambulance builds upon the foundation of a deeply integrated EMS system design that has been in place since 2013. In this model, the private ambulance contractor provides the ambulance and emergency medical technician (EMT) and reimburses the City for the use of the firefighter paramedic.
"Maricopa Ambulance was honored to be selected and trusted as the best ambulance partner for the community," said Maricopa Ambulance West Region President Alan Smith. "In Chandler, we enjoy tight collaboration and teamwork with our fire partners, which fits perfectly with our company philosophy and leadership commitment. We have worked incredibly closely with City of Chandler, the Chandler Fire Department and other partners in the medical community and public safety over the past nine months to further refine our solutions for the community and to ensure that every City of Chandler resident receives exceptional emergency response coverage from day one."
In the new contract approved by Chandler City Council last year, the City of Chandler will have two additional staffed ambulance resources for a total of seven ambulances during the system's busiest peak hours – one additional ambulance 24 hours a day, seven days a week and one ambulance 12 hours a day to cover the hours of the day with the most 9-1-1 calls. Additionally, Maricopa Ambulance is supporting the additional Chandler Fire Department firefighter paramedics needed to increase the resource levels in the system.
As part of the ambulance service agreement, Maricopa Ambulance will provide an additional three backup ambulance units for an additional layer of redundancy for maintenance, surge and special events in the City of Chandler. In total, Maricopa Ambulance is providing 10 new ambulances to the Chandler EMS system co-branded with the logos of the fire department and ambulance service. Each ambulance is equipped with advanced life support equipment and custom-built to house specialized firefighting equipment and gear for all-hazard response.
Maricopa Ambulance also is adding Lucas 3 automated chest compression devices to each ambulance. The automated CPR devices represent a significant equipment upgrade in the City of Chandler EMS system. The LUCAS device optimizes the pressure and speed of chest compression while freeing the hands of the EMT and paramedic for other medical care or moving the patient even in tight, constrained spaces. Consistent, uninterrupted chest compressions are proven to improve patient outcomes in patients experiencing cardiac arrest.
"We are very excited to unveil this new solution, because with Maricopa Ambulance, we can deliver more to the people of Chandler," said Chief Dwiggins. "More ambulances on the road. More emergency vehicles. More EMS professionals. More advanced clinical equipment. And perhaps most importantly, more and deeper collaboration with our ambulance partner on continually stepping up the service commitment."
Maricopa Ambulance received a certificate of necessity (CON) from the Arizona Department of Health Services (ADHS) to provide ambulance service in 2016. In five years, Maricopa Ambulance has cumulatively cared for more than 325,000 patients in Maricopa County. Maricopa Ambulance is the fastest-growing private ambulance service in the Valley serving approximately 80,000 patients annually with 85 ambulances and employing more than 500 EMTs, paramedics, dispatchers and support staff.
Maricopa Ambulance is the 9-1-1 ambulance service partner for the cities of Scottsdale, Surprise, Glendale and Goodyear. With the addition of the city of Chandler, Maricopa Ambulance will provide 9-1-1 ambulance service response to communities representing 1 million people in Maricopa County.
Maricopa Ambulance is recognized as a Premier EMS Agency by the Arizona Department of Health Services and is a member of the Arizona Hospital and Healthcare Association, the Arizona Health Care Association and the Arizona Ambulance Association. For more information, visit www.maricopaambulance.com.Maricopa Ambulance is a member of the Priority Ambulance national family of companies. For more information, visit www.priorityambulance.com.
Pictured above from left to right are Chandler Fire Department Battalion Chief Britt Burns, Chandler Fire Department EMS Captain Charles Griffiths and Assistant Chief Keith Hargis with Maricopa Ambulance Regional President Alan Smith, Director of Operations Lindsay Pingel and Regional Director of Marketing and New Business Development Michelle Angle.