Maricopa Ambulance celebrates five years in Maricopa County, Arizona
October 14, 2021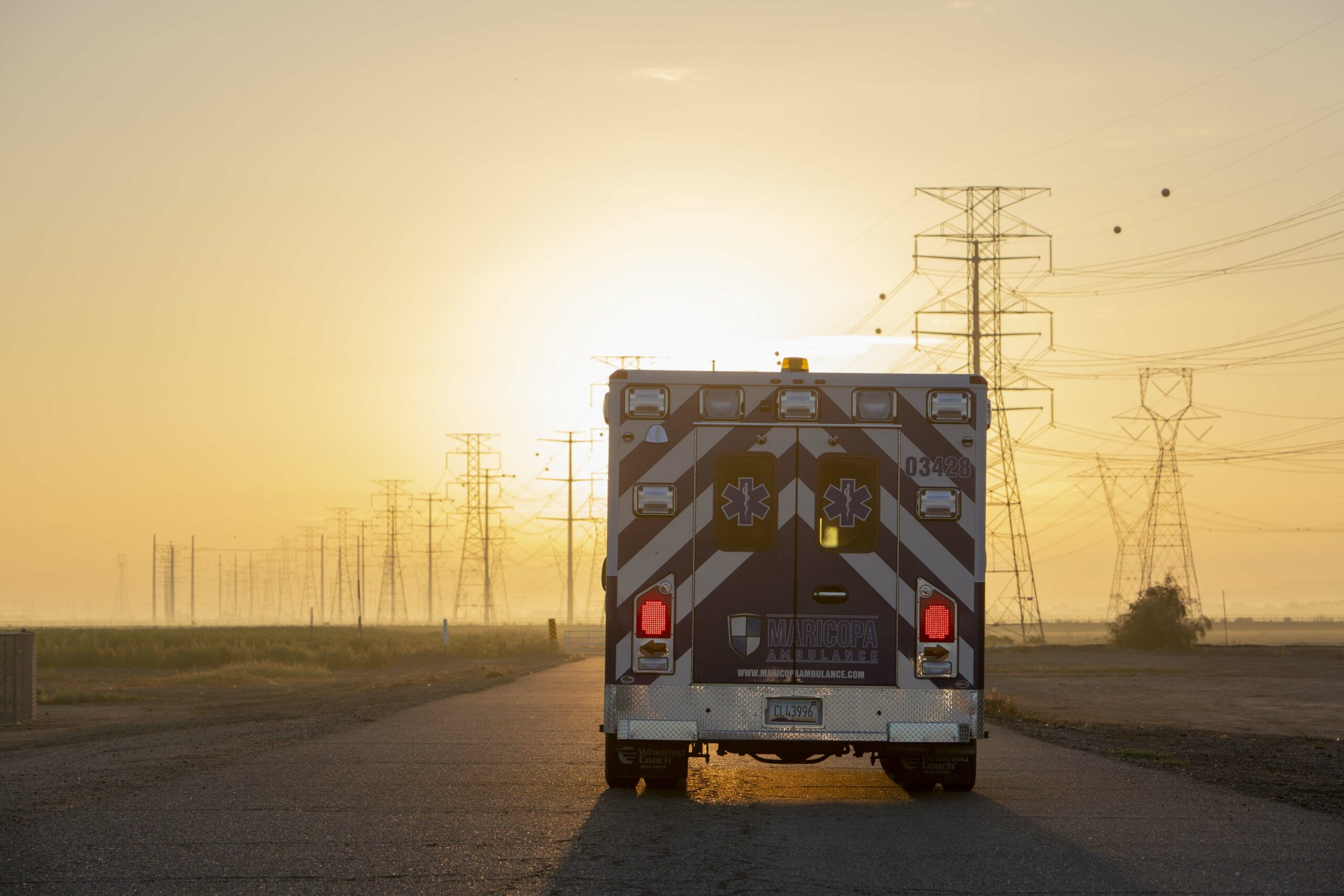 Fastest-growing ambulance service in the Valley marks more than 325,000 patients served
Maricopa Ambulance this week marks its fifth anniversary of providing 911 and interfacility service to the Valley.
Since the company served its first Maricopa County patient on October 13, 2016, the company has cumulatively served more than 325,000 patients. Maricopa Ambulance is the fastest-growing private ambulance service in the Valley with 75 ambulances and employing more than 430 EMTs, paramedics, dispatchers and support staff.
"We started Maricopa Ambulance based on a deep belief that Maricopa County citizens, communities and health care facilities deserved a choice when it came to ambulance transport.," said Bryan Gibson, CEO of Priority OnDemand and its medical transportation company Priority Ambulance. "My home for many years, I knew we could best serve this community by building deeper partnerships with cities, fire departments and health care facilities. We are grateful to our partners who have shared our vision and have trusted us to serve their communities and patients."
In July 2016, Maricopa Ambulance was granted a certificate of necessity (CON) to provide ambulance service in Maricopa County from the Arizona Department of Health Services (ADHS). Through a nearly two-year process, Maricopa Ambulance demonstrated the community need for a new private ambulance provider and proved the company and its local and national leadership fit and proper to deliver ambulance service. At the time, only one other private company was licensed to fully serve the more than 4 million residents. On October 13, 2016, the company completed its first transport.
In its first year of operation, the company hired more than 200 employees and rapidly expanded its service by building lasting relationships with the Valley's health care systems and facilities. In late 2017, Maricopa Ambulance secured its first 9-1-1 ambulance service contract in the City of Scottsdale in a competitive bid process that created a tiered EMS response system with the Scottsdale Fire Department.
"In 2017, the City of Scottsdale sought an ambulance partner to come alongside us as we redesigned our EMS system to ensure a consistent continuum of care from the moment our firefighters arrived on the scene of a 9-1-1 call to when the patient is delivered to the hospital emergency department," said City of Scottsdale Fire Chief Tom Shannon. "Though Maricopa Ambulance was a relatively new company, we were confident that they could deliver on their promises to our community because of the leadership's long history in the Valley and the desire to develop a strong public-private partnership. They have consistently delivered as a true partner."
On February 17, 2018, Maricopa Ambulance deployed 11 ambulances in Scottsdale, each staffed with two emergency medical technicians. Under the tiered response model, Maricopa Ambulance provide basic life support (BLS) staffing on its ambulance, and Scottsdale firefighter paramedic first responders ride along in the ambulance to upgrade service to advanced life support (ALS) when needed. That year, the aftermarket safety systems in Scottsdale's ambulance fleet were recognized by the American Ambulance Association with an AMBY Award for Patient and Employee Safety Programs. Since 2018, Maricopa Ambulance has also served the City of Surprise with backup 9-1-1 ambulance response.
In early 2019, Maricopa Ambulance began serving the cities of Glendale and Goodyear with 9-1-1 ALS response. The new contracts expanded its fleet to more than 45 ambulances and 330 employees – a growth of approximately 30 percent in three months.
"I could not be happier about the support and service Maricopa Ambulance that delivers," said Glendale Fire Department Chief Terry Garrison. "The Glendale Fire Department is committed to providing the highest level of service to our customers – many times while they are having the most stressful day in their lives. Our firefighters work hand-in-hand with the EMTs and paramedics of Maricopa Ambulance in providing professional pre-hospital care each and every day. We look forward to our continued partnership."
In 2021, Maricopa Ambulance was awarded the 9-1-1 contract to the City of Chandler – another EMS system with an integrated staffing model with the fire service. A Chandler firefighter paramedic will work alongside a Maricopa Ambulance EMT on every 9-1-1 call in the city when the contract begins on January 1. With the addition of the city of Chandler, Maricopa Ambulance will provide 9-1-1 ambulance service response to communities representing 1 million people in Maricopa County.
"All of our success is due to the support of our community partners and the dedication of our talented local team," said Priority Ambulance West Region President Alan Smith, who has overseen Maricopa Ambulance since 2019. "Many of our local management team and field crews have been here from our first day in October 2016 and fully bought into Bryan's vision of partnerships and exceptional customer service. By executing daily on this mission, we are proud to be the fastest-growing private ambulance service in the Valley and are on track to serve more than 80,000 patients in 2021."
Maricopa Ambulance plans to continue its expansion in the Valley and in the state of Arizona. Plans include technology service line expansions that provide access to integrated telehealth solutions, as well as industry-leading digital transportation ordering and patient movement logistics software for hospital and medical facility partners.
Maricopa Ambulance is a member of the Priority Ambulance national family of companies. For more information, visit www.maricopaambulance.com.
About Priority OnDemand and Priority Ambulance
Priority OnDemand creates important connections across the continuum of care that solve challenges and reduce inefficiencies for patients, providers, hospitals and healthcare facilities, communities and insurers. Priority OnDemand integrates telehealth and patient logistics software solutions to EMS and medical transportation services. Priority OnDemand impacts the lives of 830,000 patients annually. For more information on the integrated technology platform, visit www.priorityondemand.com.
Priority Ambulance is a dynamic, rapidly growing health care company with current medical transportation operations in 14 states and has been listed for four consecutive years on the Inc. Magazine's list of the 5000 Fastest-Growing Private Companies in America. Priority Ambulance's EMTs, paramedics, nurses and support teams deliver exceptional patient care and customer service to more than 600,000 patients each year. Throughout its national service area, approximately 4,100 highly trained paramedics and EMTs staff a fleet of more than 825 state-of-the-art ambulances and support vehicles. For more information on the Priority Ambulance family of companies, visit www.priorityambulance.com.