GAVAC rebrands as Lake Valley EMS to reflect regional growth, joins the Priority Ambulance family of companies
May 5, 2021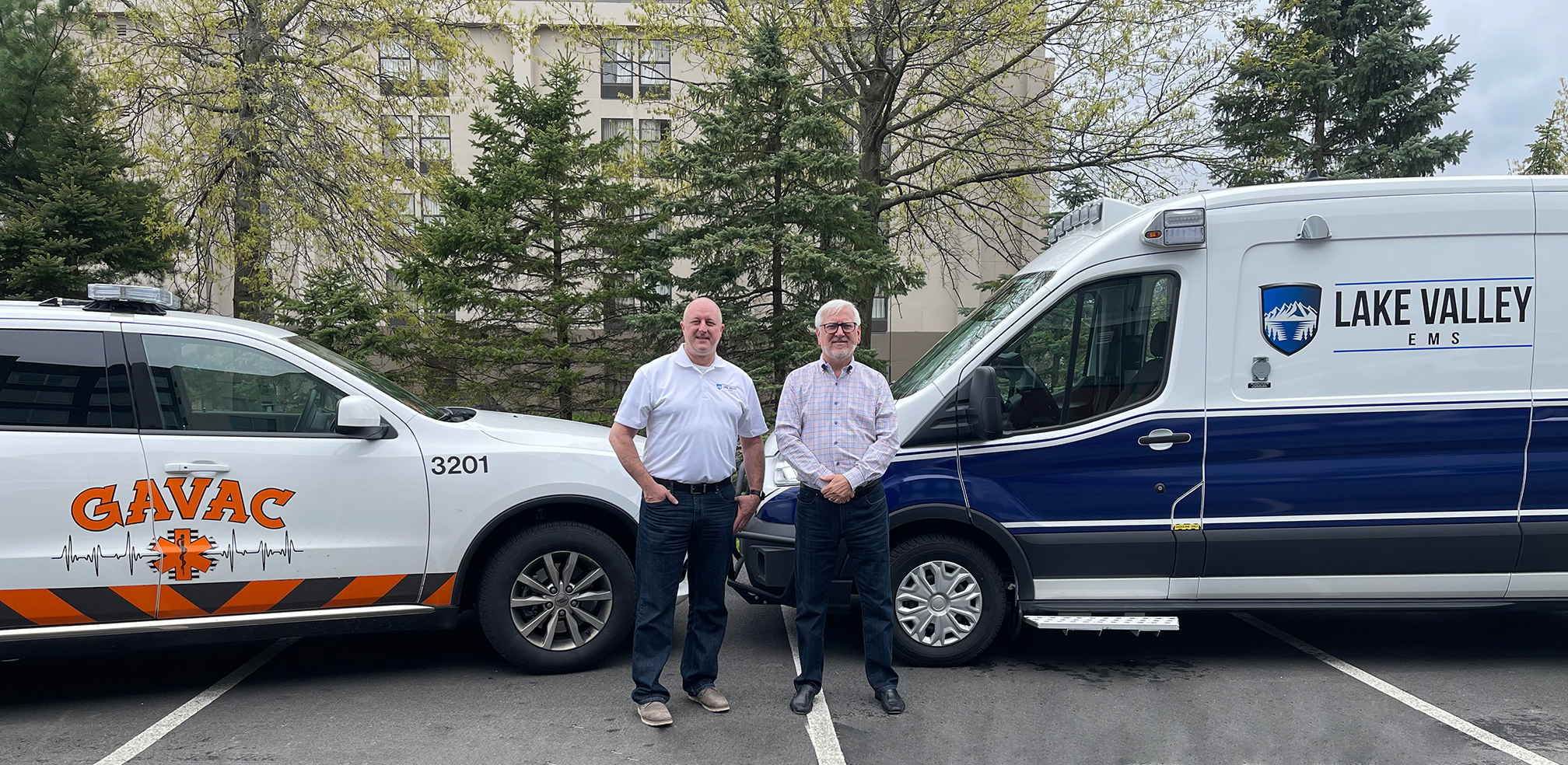 Greater Amsterdam Volunteer Ambulance Corps (GAVAC) announced today that the ambulance service will be renamed Lake Valley EMS to reflect its growth in the Mohawk Valley and Adirondack Mountain region.
In the past two years, the service has expanded its mission regionally to provide 9-1-1 and interfacility response in Montgomery, Fulton and portions of Hamilton counties. The new name will better represent all of the communities it serves.
"For 55 years, GAVAC board of directors, leadership and EMS professionals have daily delivered on our mission to provide clinically excellent, timely EMS response to the Greater Amsterdam area," said GAVAC Executive Director Tom Pasquarelli. "Because of the solid foundation built by our board of directors, we were well-positioned to step up when asked to assist neighboring communities in need of essential ambulance service."
"To make each of our employees, communities and patients throughout the region feel welcome and equally represented, we felt it was the perfect time for a change. After months of gathering input from GAVAC leadership, board and employees, we are excited to affirm our coalition and our future together as Lake Valley EMS."
At a meeting of its employees on Wednesday, leadership unveiled the new company name, logo and branding that will be rolled out to all ambulances, emergency vehicles and uniforms in late June. Additionally, Lake Valley EMS announced plans to join the Priority Ambulance family of ambulance companies bringing additional resources and national support to further position the service for a sustainable future.
"Ensuring the sustainability of our high standard of service to our communities is critical," said Pasquarelli. "Because of sound operational stewardship from every member of the GAVAC team, we are in a position to introduce a partner bringing new resources and opening up new opportunities for our organization and our team members."
The partnership with Priority Ambulance brings national purchasing power for supplies and equipment, national employee benefits, economies of scale to maximize revenue to support the system and financial support for any further growth needed to support communities. Additionally, Lake Valley EMS employees will have greater access to training, leadership development and advancement opportunities.
Employees within the system will see little day-to-day operational change. Current Executive Director Thomas Pasquarelli, who has dedicated 30 years at GAVAC, will continue to lead Lake Valley EMS as director of operations. All current employees of GAVAC will be offered positions within the system and years of service will continue to be recognized for pay and seniority.
The GAVAC Board of Directors will continue to operate as a nonprofit and will serve in an advisory role in the new system, as well as continue to give back to the community through public safety education, training and other community initiatives.
Priority Ambulance is a national ambulance company headquartered in Knoxville, Tennessee. In addition to Lake Valley EMS, Priority Ambulance operates under two trusted brands in New York – Kunkel Ambulance in Utica and Trans Am Ambulance in Olean. The Priority Ambulance family of companies serves communities in 13 states with 3,400 employees and nearly 650 emergency vehicles. Priority Ambulance was founded in 2014 with the belief in identifying trusted local companies who understand the unique needs of their communities and empowering them in service. Each company is supported with additional capital, resources and expertise from the national leadership team, as well as its sister companies.
"At Priority Ambulance, we strongly believe that all EMS is local and in supporting local teams who have built decades of trust," said Priority Ambulance Regional President Steve Blackburn. "We look forward to supporting Tom and the Lake Valley EMS team as they expand on their strong legacy of service in the region.  Our family of companies in New York and throughout the country share a commitment to local service, safety, employee focus and clinical care. The Lake Valley EMS team clearly holds those same priorities and will be a great fit with our family."
Pending final regulatory approvals through the regional EMS council, the rebranding and partnership with Priority Ambulance are anticipated to be begin in late June.