Chandler City Council approves new contract with Maricopa Ambulance as ambulance service partner
March 26, 2021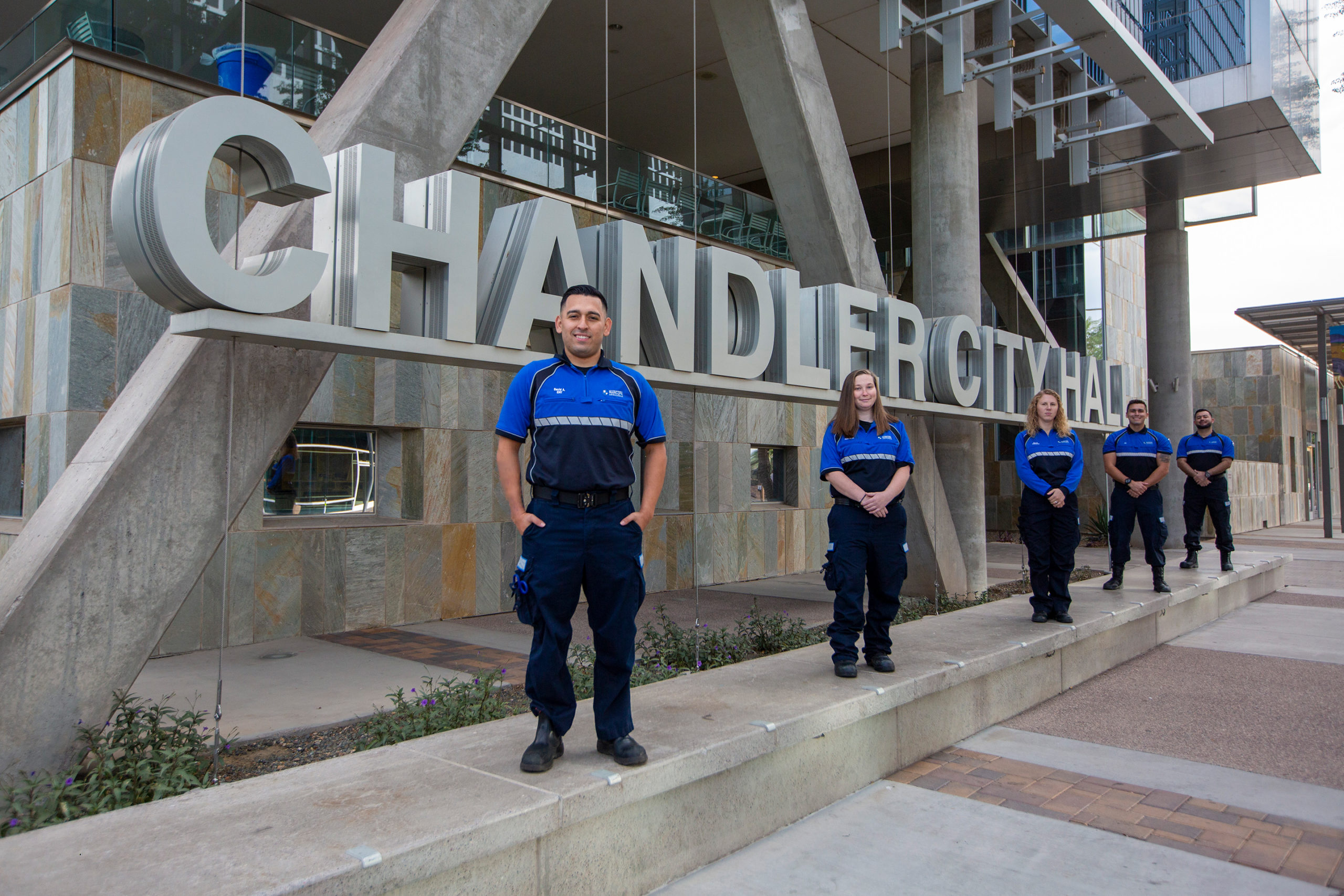 Maricopa Ambulance to begin responding to all 9-1-1 calls in January 2022
The Chandler City Council approved the selection of Maricopa Ambulance as its ambulance service partner during its regularly scheduled meeting on March 25 following a competitive bid process. Pending final negotiations, the four-year contract will begin in January 2022 with the option for three additional one-year renewals.
As part of the ambulance service agreement, Maricopa Ambulance will staff seven ambulances during day-time hours with one emergency medical technician (EMT) to support Chandler's emergency medical services (EMS). The Chandler Fire Department will provide one firefighter paramedic to deliver advanced life support services.
"The Chandler emergency medical response system requires deep integration between the Fire Department and ambulance service," said Chandler Fire Chief Tom Dwiggins. "On every 9-1-1 call, a Chandler firefighter paramedic works alongside the Maricopa Ambulance EMT and takes ownership throughout the continuum of patient care. Good partnership, communication and a shared commitment to clinical quality are particularly critical to successfully operating this integrated EMS system. We believe that we have found a strong partner in Maricopa Ambulance, and we look forward to working with those who share our mission to continually improve care for the City of Chandler."
"Since starting up in 2016, Maricopa Ambulance has grown rapidly throughout the Valley because of the close relationships and innovative service delivery models that we have built in partnership with our fire department partners," said Maricopa Ambulance Regional President Alan Smith. "The public-private partnership with Chandler Fire in this new contract perfectly fits in the wheelhouse of what we do well and our philosophy of collaboration with community partners."
Each ambulance will be specially configured to house firefighter turnout gear and extrication equipment to allow the firefighter paramedic on board to respond to any emergency. This configuration provides maximum flexibility during responses to any type of emergency including fires, motor vehicle crashes and medical calls. Ambulances also will be equipped with the latest medical technology, including cardiac heart monitors and Lucas automated chest compression devices to ensure accurate, consistent chest compressions in the field, improving outcomes in cardiac arrest.
To provide for reserve and backup, Maricopa Ambulance will supply a total of ten new American-made Ford ambulances stationed at Chandler fire stations and co-branded with Chandler Fire Department and Maricopa Ambulance logos. Maricopa Ambulance's national safety award-winning vehicles are equipped with lane departure alerting, collision avoidance, driver behavior monitoring and other features to keep ambulance crews and patients safe.
Prior to the January implementation date, Maricopa Ambulance will work with the Chandler Fire Department to transition qualified EMTs currently working in the Chandler EMS system to continue working in the community.
Maricopa Ambulance began operations in Maricopa County in October 2016 after receiving its certificate of necessity (CON) from the Arizona Department of Health Services. The issuance of the CON allowed for a new choice in medical transport in Maricopa County, which was previously served by only one provider for a majority of the county. Today, Maricopa Ambulance operates more than 65 ambulances in the Valley and will be adding additional units in the coming months to serve new facility and 9-1-1 contracts, including the Chandler community. Maricopa Ambulance currently provides 9-1-1 response to the cities of Scottsdale, Glendale, Goodyear and Surprise.
About Maricopa Ambulance:
Maricopa Ambulance is recognized as a Premier EMS Agency by the Arizona Department of Health Services and is a member of the Arizona Hospital and Healthcare Association, the Arizona Health Care Association and the Arizona Ambulance Association. For more information, visit www.maricopaambulance.com.Maricopa Ambulance is a member of the Priority Ambulance national family of companies. For more information, visit www.priorityambulance.com.
About Chandler Fire Department:
The Chandler Fire Department is a progressive, internationally accredited organization with an Insurance Services Office (ISO) Class 1 rating and a distinguished history of service to the community. Chandler Fire began as a volunteer organization and is now an all-career department. The Chandler City Charter authorizes the Department to mitigate all hazards, including fire suppression, emergency medical services (EMS), hazardous materials response, technical rescue, and crisis intervention. In support of those functions, the Fire Department staffs a fire prevention bureau, EMS and training divisions, mechanical maintenance facility, community preparedness office, and Department administration.
For more information, visit https://www.chandleraz.gov/residents/fire/about.