Scottsdale City Council votes unanimously to renew ambulance contract with Maricopa Ambulance
December 8, 2020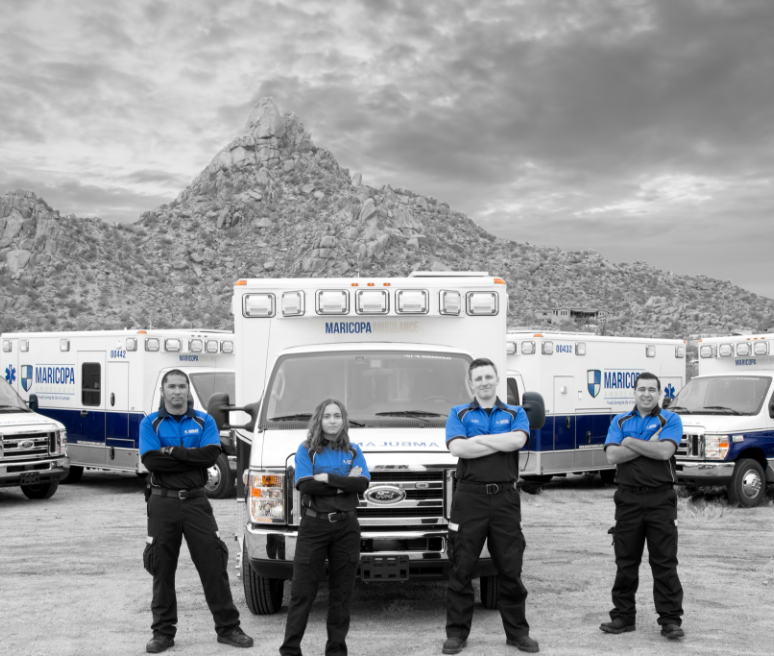 The Scottsdale City Council voted unanimously to renew the city's ambulance service contract with Maricopa Ambulance for three years at a meeting on December 7. The new contract term begins February 2021.
"Maricopa Ambulance has met our expectations and together, we have built a true partnership starting with collaborative leadership and extending to the firefighters, EMTs and paramedics in the field. The Scottsdale EMS system delivers consistently excellent and responsive care, and we look forward to continuing that relationship in the future," said Scottsdale Fire Department Chief Tom Shannon."
Maricopa Ambulance began serving the City of Scottsdale in February 2018, dedicating 14 ambulances to the Scottsdale 9-1-1 system, as well as a quick response vehicle for paramedic supervisors. Ambulances are staffed by two Maricopa Ambulance EMTs. Scottsdale Fire Department paramedics ride along in the ambulances to provide advanced life support (ALS) levels of care.
"We look forward to working alongside the Scottsdale Fire Department to care for the health and safety of citizens for many years to come," said Alan Smith, West Regional President. "Our shared commitment to compassionate care, continuous quality improvement, training and education and advanced EMS protocols puts Scottsdale at the forefront of public safety agencies."
Maricopa Ambulance provides emergency and non-emergency ambulance services in Maricopa County, including 9-1-1 services to the cities of Scottsdale, Glendale, Goodyear and Surprise. The company also provides comprehensive non-emergency services to hospital and health care facilities throughout the Valley. Maricopa Ambulance is recognized as a Premier EMS Agency by the Arizona Department of Health Services and is a member of the Arizona Hospital and Healthcare Association, Arizona Health Care Association and Arizona Ambulance Association.