Robin Tinberg promoted to Director of Revenue Cycle Management
December 30, 2019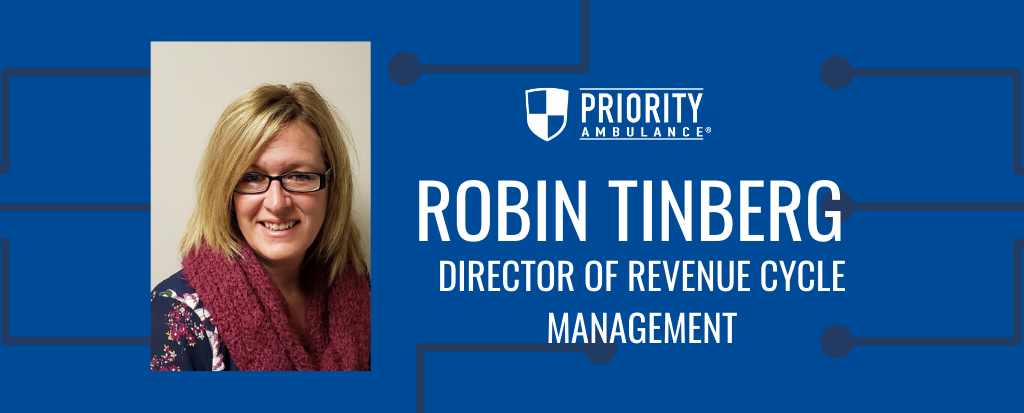 Priority Ambulance is pleased to announce that Robin Tinberg has been promoted to Director of Revenue Cycle Management, with responsibility for overall strategy and optimization of revenue cycle operations, systems, policies and procedures.
"I am very proud to welcome Robin to her new role and look forward to continuing to work side-by-side as we support the company's billing, collections and revenue cycle initiatives," said Bob Jewell, Chief Revenue Officer. "Robin brings extensive experience and a long track record of outstanding results to our team. Please join me in offering our congratulations."
Robin joined Priority Ambulance as Billing Manager in 2014, with responsibility for day-to-day operations at the Indianapolis billing center, including compliance with insurance eligibility processes, charges, claims submission and reporting. She will take on a strategic role as Director of Revenue Cycle Management, contributing to initiatives designed to optimize revenue cycle operations, as well as overseeing concurrent and retrospective auditing, proper coding, credentialing, insurance contract review, and customer service efforts related to revenue cycle activities.
Prior to joining the Priority family, Robin worked from 2012 to 2014 as a manager for Complete Billing Services, a division of RevOne Companies, overseeing insurance follow-up, legacy accounts receivable, accident claims and workers compensation activities.
For 18 years, Robin held various revenue cycle positions at Rural/Metro Corporation. There, she supervised all billing activities for east and west Tennessee. She was promoted to billing manager for Rural/Metro in 2007, overseeing that company's south region billing activities, which included Indiana, Kentucky, Ohio, Tennessee, Missouri, Mississippi, Alabama, Georgia and Florida.
Robin is based at the company's Indianapolis billing center, reporting directly to the Chief Revenue Officer.