Andrew Bigler promoted to Vice President of Finance
August 12, 2019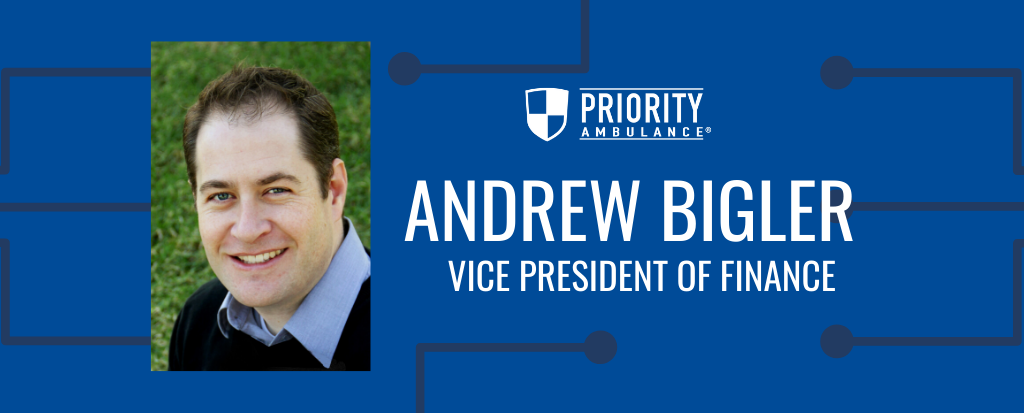 Priority Ambulance announced today that Andrew Bigler has been promoted to vice president of finance, working closely with senior management in areas including financial analysis and budget management, growth strategies, capital financing, and insurance oversight.
"In his five years as director of finance, Andrew has played a critical role in the implementation of Priority's growth and acquisition strategy, while also directing the implementation of foundational financial systems and processes that demonstrate his proactive leadership style," said Chief Financial Officer Kristi Ponczak. "Andrew is a highly valued member of our finance and accounting team, and we are very pleased to promote a great talent from within the Priority family."
As vice president of finance, Andrew will be responsible for analyzing the company's financial results with respect to profits, trends, cost and budget compliance; providing strategic guidance on capital financing to support the company's long-term growth plan; and, developing and coordinating relationships with lenders and other financial institutions. Additionally, he will assist senior management in financial planning and results management and oversee the company's relationships with insurers.
Andrew joined Priority Ambulance in July 2014 as manager of financial planning and analysis. He was promoted to director of finance two years later and in that role has led the implementation of a proprietary revenue analytics tool, developed the Financial Planning and Analysis, Treasury, and Procurement departments, assisted in raising an additional $70M of financing, and helped the company double in size.
Prior to joining Priority, Andrew worked for Allergan in Irvine, California, for five years in various financial analysis roles, including senior financial analyst, principal financial analyst and financial planning manager. His career also includes financial analysis positions with Intel and L. Roy Papp & Associates. Andrew holds a bachelor's degree in accounting from Arizona State University and a Master of Business Administration in Financial Management and Markets from ASU's W.P. Carey School of Business.
About Priority Ambulance
Priority Ambulance serves more than 400,000 patients annually with approximately 2,800 highly trained paramedics and EMTs staffing a fleet of approximately 500 state-of-the-art vehicles with the latest medical equipment and technology. Priority Ambulance operates in 10 states under trusted local brands that provide emergency and non-emergency medical transport services.
The Priority Ambulance family of companies includes Shoals Ambulance in Alabama; Maricopa Ambulance in Arizona; Puckett EMS in Georgia and Southeast Tennessee; Central EMS in Georgia; National EMS in Georgia; Seals Ambulance in Indiana; Kunkel Ambulance in upstate New York; Trans Am Ambulance in western New York and northwestern Pennsylvania; Medshore Ambulance in South Carolina; and Priority Ambulance in east Tennessee. Priority Ambulance also serves Baptist Memorial Health Care facilities in west Tennessee, Mississippi and Arkansas under the Baptist brand. For more information, go to www.priorityambulance.com.