Maricopa Ambulance now responding to 9-1-1 calls in City of Glendale
March 31, 2019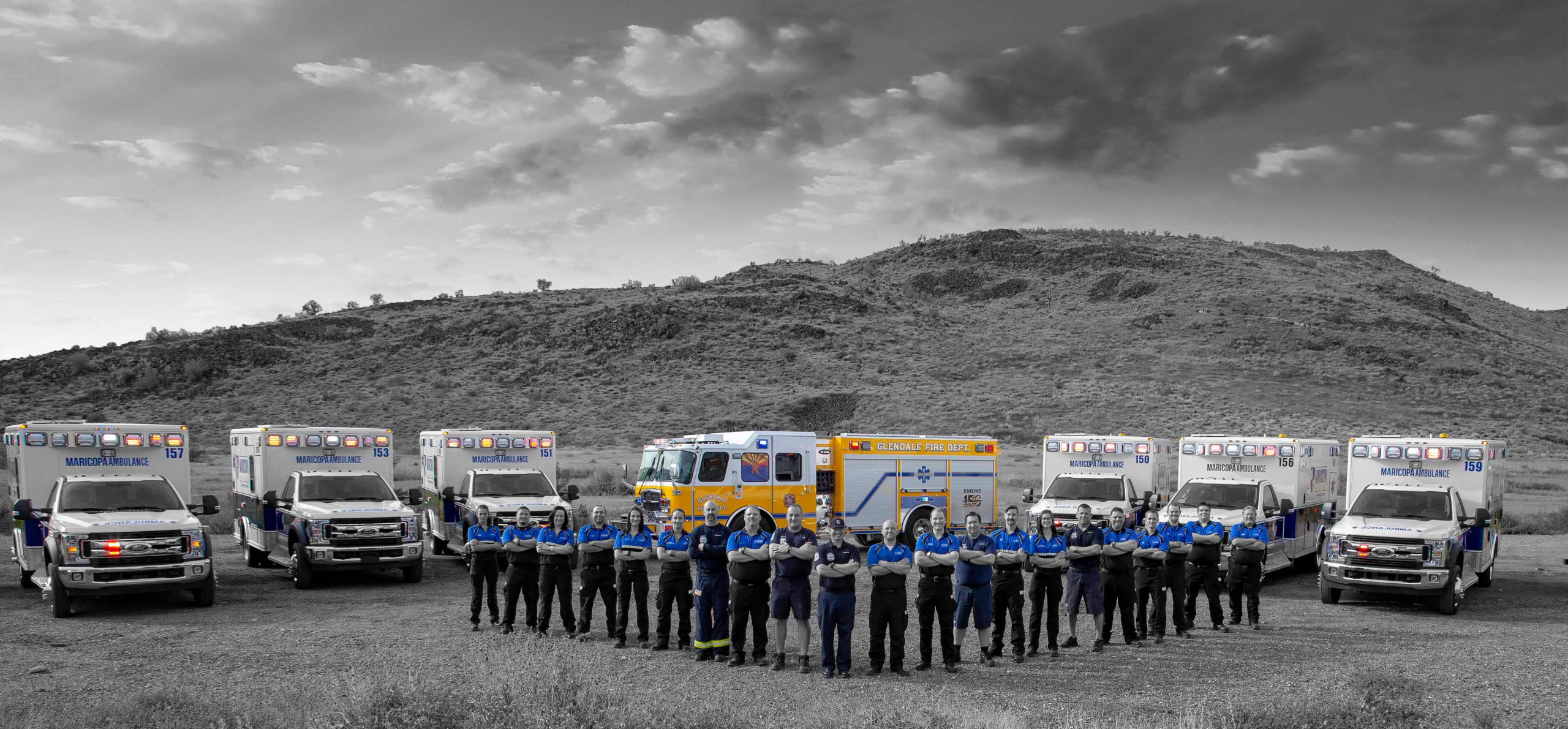 On Sunday, March 31 at 8 a.m., the City of Glendale's new 9-1-1 ambulance service partner, Maricopa Ambulance, began responding to emergency medical calls within the city limits.
Maricopa Ambulance, the Glendale Fire Department and the Phoenix Fire Department Regional Dispatch Center have been preparing for months to ensure a seamless transition. Maricopa Ambulance vehicles and staffing were in place on Saturday for final system testing and preparations before beginning to respond to calls on Sunday morning.
All EMTs and paramedics assigned to the City of Glendale EMS system completed extensive training this week on equipment, medical protocols and orientation to the new 9-1-1 system, which included setting the vision and expectations for EMS personnel and system performance by the Glendale Fire Department and Maricopa Ambulance leadership.
Maricopa Ambulance has provided 13 new American-made Ford ambulances to the Glendale EMS system, as well as a quick response vehicle for Glendale system supervisors equipped with advanced life support equipment. The vehicles are equipped with the latest medical equipment, including a significant upgrade to the Glendale EMS system – Lucas automated chest compression devices on every ambulance. These devices optimize the pressure and speed of chest compression while freeing the hands of the EMT and paramedic for other medical care or moving the patient.
The Glendale leadership team at Maricopa Ambulance are experienced local EMS professionals. Glendale EMS Director Adam Stockton has more than a decade of experience in EMS in the Valley, including instrumental leadership in the startup of the Scottsdale 9-1-1 system with Maricopa Ambulance earlier this year and serving as the lead paramedic at the Abrazo West Level One Trauma Center. Stockton will manage day-to-day operations of the Glendale EMS system with assistance from paramedic supervisors.
Maricopa Ambulance began operations in Maricopa County in October 2016 after receiving its certificate of necessity (CON) from the Arizona Department of Health. The issuance of the CON allowed for a new choice in medical transport in Maricopa County, which was previously served by only one provider for a majority of the county. Today, Maricopa Ambulance operates more than 30 ambulances in the Valley and will be adding additional units in the coming months to serve new facility contracts and 9-1-1 contracts, including the Glendale community. Maricopa Ambulance currently provides 9-1-1 response to the cities of Scottsdale, Glendale, Goodyear and backup 9-1-1 response to the City of Surprise.
Maricopa Ambulance is recognized as a Premier EMS Agency by the Arizona Department of Health Services and is a member of the Arizona Hospital and Healthcare Association, the Arizona Health Care Association and the Arizona Ambulance Association. For more information, visit www.maricopaambulance.com.
Maricopa Ambulance is a member of the Priority Ambulance national family of companies. For more information, visit www.priorityambulance.com.