Sequatchie County approves contract with Puckett EMS for 9-1-1 ambulance service
February 4, 2019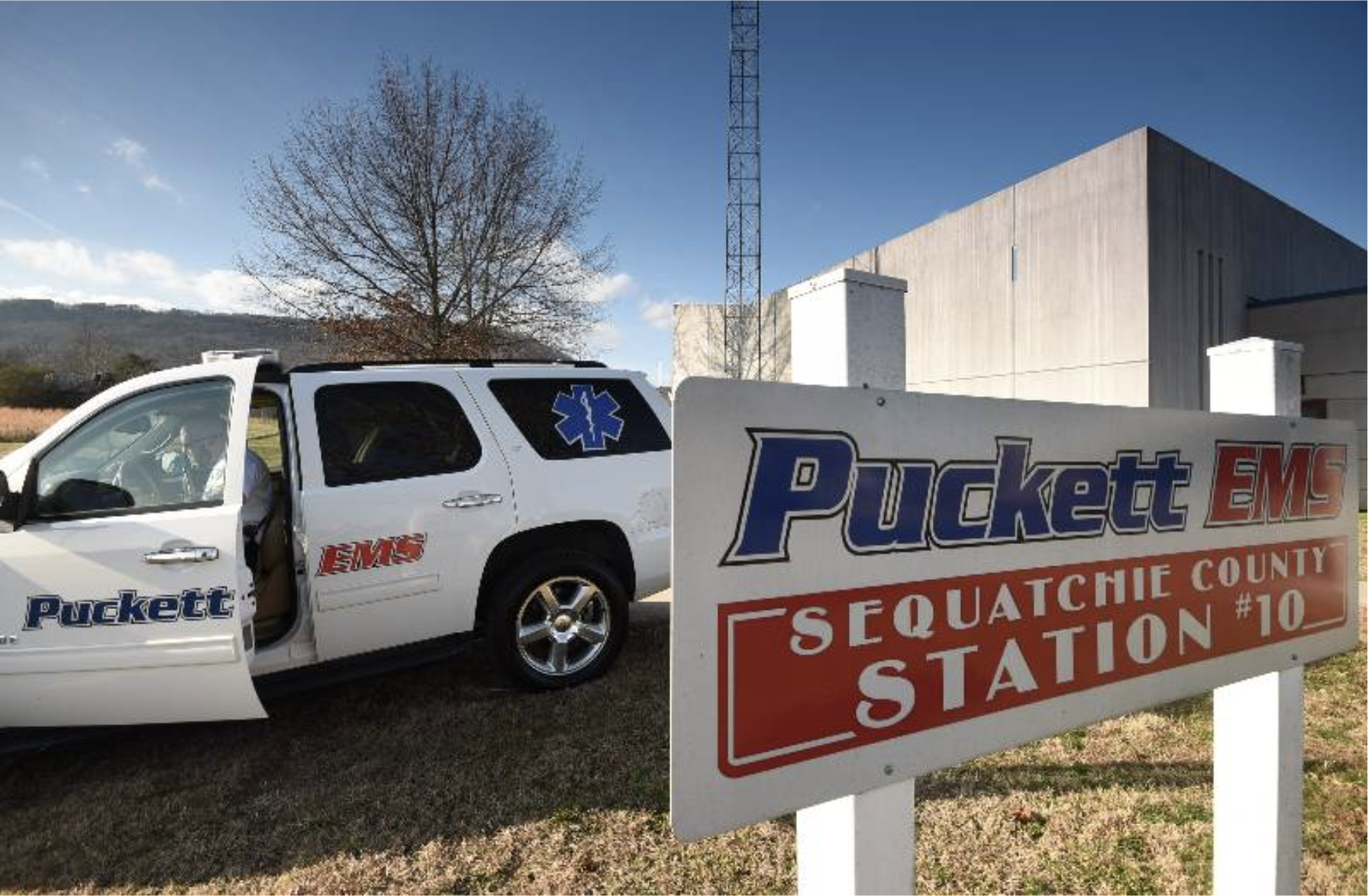 Sequatchie County Commission unanimously voted to approve a new 5-year contract with Puckett EMS to provide ambulance response to all 9-1-1 calls within the county at their regularly scheduled meeting on January 28. Puckett EMS submitted a proposal in a competitive bid process earlier this month that was unanimously recommended by the Emergency Services Committee.
"Puckett EMS has exceeded our expectations in performance, community investment and partnership with our local first responders in the last five years," said Sequatchie County Executive Keith Cartwright. ""Five years ago, Sequatchie County made the decision to contract our ambulance service and selected Puckett EMS as our partner. That has proven to be an excellent decision, and I am pleased that the Emergency Service Committee and County Commission has confirmed them to continue service.
"In addition to their excellence performance and community involvement, transitioning ambulance service to Puckett EMS has delivered direct financial benefit to taxpayers – saving the county more than $1.5 million over the past five years."
The new agreement for 9-1-1 service increases the number of vehicles contracted to serve the county to two 24-hour ambulances within Sequatchie County, as well as improves response time standards in both urban and rural parts of the county.
"For time sensitive diagnoses like cardiac arrest and stroke, response times can directly relate into lives saved in Sequatchie County," said Puckett EMS Vice President Shane Garrison. "By continuously honing our ambulance deployment plan to meet call demand, we have been operating at a higher level for response times than contract standards. We are pleased to be able to adjust the contract to meet our higher standards and set a new bar for performance in Sequatchie County for the next five years."
As Sequatchie County's ambulance service partner, Puckett EMS also provides emergency first responder (EMR) certification courses open to local volunteer fire departments. Additionally, Puckett EMS has provided AEDs through its EMS Cares Foundation to numerous schools and public buildings, as well as provided the associated maintenance and training. Puckett EMS offers free CPR training to local schools and organizations and provides standby ambulance service community events at no cost to the county.
"Based on their previous performance, Puckett EMS has been able to improve response time standards and increase ambulances in the new contract to ensure that performance remains at a high level," said Sequatchie County Emergency Services Committee Chairman Jeff Mackey. "This is great news for our community, and the Emergency Services Committee was proud to be able to recommend Puckett."
Puckett EMS is the preferred ambulance provider for Erlanger Health, which opened a local free-standing emergency department in Sequatchie County in 2014. At the same time, Sequatchie County released a request for proposals for privatized ambulance service to the community. Puckett EMS assumed the ambulances and equipment assets from Sequatchie County to begin providing 9-1-1 service to the community.
"As you well know, your ambulance provider has a great impact on the quality and delivery of emergency services in your community," said Erlanger Health Vice President of Operations Robert Tester. "I want you to know that we certainly made the right decision when Erlanger Health System selected Puckett EMS as our ambulance provider partner in 2010. Their leadership team has always been actively involved and has supported the hospital systems efforts in improving healthcare for citizens throughout East Tennessee. A shining example of what can be accomplished through strong Healthcare and EMS partnerships has been in Sequatchie County over the past five years."
The new contract term begins on May 1, 2019.
About Puckett EMS
Puckett EMS provides 911 emergency and critical care ambulance services to the citizens of Southwest Cobb, Walker, Dade and Catoosa counties located in North Georgia and Marion and Sequatchie counties in Southeast Tennessee. Puckett EMS is the contracted ground transport for multiple Hospital Systems. Puckett EMS is accredited by The Commission on Accreditation of Ambulance Services (CAAS), which signifies that the service has met the gold standard by the ambulance industry. Puckett EMS is one of only 160 CAAS-accredited services nationwide.
Puckett EMS is deeply involved in the communities it services. The agency has been recognized eight times as a top business in Cobb County and won the 2013 Small Business of the Year from the Cobb County Chamber of Commerce. In 2015, Puckett EMS was named the Georgia Emergency Medical Service of the Year by the Georgia Department of Health. In 2016, was awarded the Southeastern Emergency Medical Service Directors Association (SEEMSDA) Emergency Medical Service of the Year Award.
Puckett EMS joined the Priority Ambulance family of companies in 2017.