Priority Ambulance welcomes National EMS in Georgia to national family of companies
July 17, 2018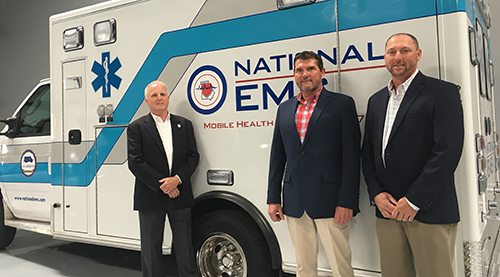 Priority Ambulance announced today that National EMS will join the company's national family of companies. National EMS based in Conyers, Ga., provides emergency and non-emergency ambulance service to more than 33,000 patients annually in four Georgia counties.
"National EMS has found a partner in Priority Ambulance that will allow our company to continue its mission of exceeding expectations of excellence from our patients and customers," said Benny Atkins, chief operating officer and co-owner of National EMS. "National EMS has always been a family-run company and will continue to be a family-run company as the current leadership will continue to lead day-to-day operations. Joining with Priority's national ambulance network will allow our company resources and support to continue to grow."
National EMS has been accredited by the Commission on Accreditation of Ambulance Services (CAAS), the gold standard in emergency medical services, for more than 25 consecutive years. National EMS was the first nationally-accredited agency in Georgia and was in the first group of 17 agencies across the country that achieved CAAS accreditation.
"As one of the first nationally-accredited ambulance companies in the country, National EMS has consistently demonstrated a desire for quality in patient care and emergency response," said Priority Ambulance CEO Bryan Gibson. "This is a commitment we share at Priority Ambulance, and we are pleased to be able to welcome them to our family to join our already strong footprint in Georgia and the Southeast. Priority has the resources to partner with National EMS in growth opportunities, and we are fortunate to add their talented team to our regional leadership network as we continue to expand across the country."
Pat Atkins, a firefighter in Cobb County Fire Services, founded National EMS with wife, Mary Ellen, in 1976 operating from the basement of their home in Kennesaw, Georgia. In 1983, National EMS was awarded the ambulance service contract for Rockdale County and relocated its headquarters to Conyers where it is located today. Five years later, the company began serving Morgan County with 9-1-1 response. In 1996, National EMS provided ambulance services for all events held at the Georgia International Horse Park during the Summer Olympic games held in the Atlanta area.
From its beginnings with one ambulance and four employees, the company has grown to a fleet of more than 30 ambulances and 200 employees.
In 2008, National EMS contracted with both Athens Regional Medical Center and St. Mary's Hospital to become the 9-1-1 ambulance provider for Athens-Clarke and Oconee counties responding to more than 18,000 annual emergency calls for service. This expansion doubled National EMS' footprint and created a regional ambulance network to ensure efficient response from the nearest ambulance in the three adjacent counties. National EMS also is the ambulance service provider to the University of Georgia Athletic Department and protects players and fans at all home athletic events at the Athens university.
"The communities we serve have trusted us to provide excellent emergency response for more than four decades," said Director of Operations Robby Atkins. "This partnership with Priority Ambulance will provide us with additional resources to continue that exceptional level of care and expand that outstanding service to new communities and customers."
National EMS will continue to operate under the same name, and existing leadership will continue to lead the company, including Chief Operating Officer Benny Atkins; Director of Operations Robby Atkins; Director of Operations Huey Atkins; and Director of Accounts Receivable Joy Peppers.
On the forefront of emerging trends and innovation, National EMS developed a community paramedicine program, "healthy@home," in partnership with Rockdale Medical Center. The partnership brought preventative healthcare to a population of patients at-risk for hospital readmission and those patients who are chronically ill or are high capacity users of the 9-1-1 system. The program includes in-home patient assessments and consultations with patients, basic vital checks and connection to community resources. The successful program reduced re-admission rate by 2 percent in its initial year in 2015.
National EMS is a community servant and industry leader and has received both regional and statewide EMS of the year awards. The agency is an active member of Rotary Clubs International and Chambers of Commerce in their service areas; Region 3 and Region 10 Emergency Medical Services Councils; Georgia Association of Emergency Medical Services and Advisory Council; Georgia Trauma Commission; Hospital Authority of Rockdale County; Georgia Ambulance Network; and SAFE Kids of Georgia, among other organizations.
About Priority Ambulance
Based in Knoxville, Tenn., Priority Ambulance provides the highest level of clinical excellence in emergency and nonemergency medical care to the communities it serves. Throughout its national service area, approximately 2,600 highly trained paramedics and EMTs staff a fleet of approximately 400 state-of-the-art vehicles with the latest medical equipment and technology.
Priority Ambulance's family of companies operates under trusted local brands providing medical transport options in nine states. The Priority Ambulance company partners include Shoals Ambulance in Alabama; Maricopa Ambulance in Arizona; Puckett EMS in Georgia and Southeast Tennessee; Central EMS in Georgia; Seals Ambulance in Indiana; Kunkel Ambulance in Upstate New York; Trans Am Ambulance in western New York and Northwestern Pennsylvania; Medshore Ambulance in South Carolina; and Priority Ambulance in East Tennessee. Priority Ambulance also serves Baptist Memorial Health Care facilities in West Tennessee and Mississippi under the Baptist brand.
About National EMS
National EMS provides 911 emergency and critical care ambulance services to the citizens of Athens-Clarke, Oconee, Rockdale and Morgan counties. National EMS was the first Georgia agency to be accredited by The Commission on Accreditation of Ambulance Services (CAAS), which signifies that the service has met the gold standard by the ambulance industry. In addition, National EMS was one of the first 17 EMS agencies in the country to receive this designation and has maintained the accreditation for more than 25 years. National EMS is a community servant and industry leader and has received both regional and statewide EMS of the year awards.
# # #