Priority Ambulance hires Alan Smith as West Regional President
May 8, 2018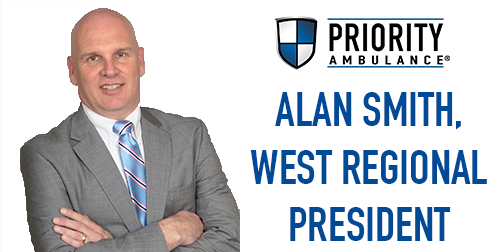 Priority Ambulance today announced that Alan Smith has joined the company as West Regional President.
Smith began in his career in EMS 35 years ago spending 20 years in the industry. After spending the next two decades honing his marketing and management skills in the shipping and health care technology industries, he has returned to his EMS roots to oversee operations and marketing in Priority Ambulance's West Region, which includes operations of significant growth in Arizona and Colorado.
"We are excited to welcome Alan Smith to our team to oversee current operations and our expanding western footprint," said Priority Ambulance CEO Bryan Gibson. "Priority Ambulance is exploring multiple opportunities to expand our approach to innovative service models and focus on patient care and friendly customer service to new facilities and communities in the western United States. Alan's marketing and operational experience will be critical for our rapidly growing West Region."
Priority Ambulance operates as Maricopa Ambulance in Central Arizona. After receiving a certificate of necessity (CON) in October 2016, Maricopa represented a new choice to provide high-quality interfacility medical transport to hospitals and medical facilities. In February 2018, Maricopa Ambulance began providing 9-1-1 service to the City of Scottsdale.
Additionally, Priority Ambulance's West Region includes its new Colorado operation, which begin providing nonemergency ambulance service to facilities in Colorado Springs in summer 2018. Pending final contract negotiations, Priority Ambulance will become the 9-1-1 provider for the City of Colorado Springs in January 2019.
Smith became an EMT in 1981, and he quickly advanced as a paramedic, emergency dispatcher, field training officer and quality improvement manager in Colorado and Missouri over the next decade. In 1992, he joined Mercy Ambulance of Richmond as the clinical manager and unit hour production manager.
In 1996, Smith joined Priority EMS in Memphis, Tennessee, which later became a part of Rural/Metro Corporation, as area general manager. Smith was charged with the recruitment and hiring of management team members, clinical upgrades of the standard of care, capital equipment improvements and setting revenue benchmarks for the $5 million company. Priority EMS was the first of several companies founded by Priority Ambulance CEO and entrepreneur Bryan Gibson.
Smith spent two decades developing and implementing national and global marketing and operational performance plans in diverse industries. In 2000, Smith joined FedEx Services in Memphis as a marketing manager. In 16 years with the company, Smith advanced from a junior professional to senior manager. At FedEx, Smith designed and implemented marketing plans for key focus areas of a Fortune 100 company with $40 billion in annual revenue. Among other successes, Smith oversaw the marketing rollout of a global new product launch of FedEx Global Returns, which exceeded annual revenue growth goals by 4 percent.
Smith returned to the health care industry in 2016 by joining ResMed as Senior Manager of Marketing Operations for the Americas. ResMed is a world-leading connected health technology company with more than 4 million cloud-connected devices treating sleep apnea, chronic obstructive pulmonary disease and other respiratory conditions in more than 120 countries.
Smith holds a master's in business administration from Christian Brother University in Memphis, Tennessee.
About Priority Ambulance
Priority Ambulance provides the highest level of clinical excellence in emergency and nonemergency medical care to the communities it serves. Priority Ambulance is one the largest, fastest-growing national private ambulance services in the United States. Throughout its national service area, approximately 2,500 highly trained paramedics and EMTs staff a fleet of approximately 400 state-of-the-art vehicles with the latest medical equipment and technology.
Priority Ambulance's family of companies operates under trusted local brands providing medical transport options in ten states. The Priority Ambulance company partners include Shoals Ambulance in Alabama; Maricopa Ambulance in Arizona; Puckett EMS in Georgia and Southeast Tennessee; Central EMS in Georgia; Seals Ambulance in Indiana; Kunkel Ambulance in Upstate New York; Trans Am Ambulance in western New York and Northwestern Pennsylvania; Medshore Ambulance in South Carolina; and Priority Ambulance in East Tennessee. Priority Ambulance also serves Baptist Memorial Health Care facilities in West Tennessee, Mississippi and Arkansas under the Baptist brand.