Josh Shore promoted to General Manager of Medshore Ambulance
February 20, 2018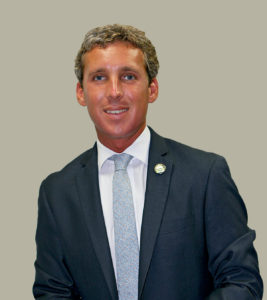 Medshore Ambulance announced today the promotion of Josh Shore to general manager of Medshore Ambulance. Shore has served as operations manager for the Anderson region for the past four years, and his family is the founder of the largest private ambulance service in South Carolina.
"Josh has worked to build Medshore since he started with the company when he was 16 years old," said Medshore Founder Greg Shore. "Medshore has always been a family company, and I am proud to see the next generation continue to grow this company."
When Shore first joined the company in 2000, he worked detailing the ambulance units. Over the years, he also worked in dispatch and on the ambulance as an EMT and paramedic. He advanced through the company serving as a field training officer, lieutenant and captain prior to being promoted to operations manager of the Anderson region.
As general manager, Shore will now be charged with overseeing operations for the largest EMS system in the state. Medshore Ambulance serves more than 100,000 patients in South Carolina each year with 100 emergency vehicles and 520 employees. Greg Shore will continue with company as the owner and founder and serve in a support role to Josh Shore as he oversees the day-to-day operations responsibilities.
Medshore Ambulance is the largest privately-owned ambulance service in South Carolina and has provided medical transport services to the Palmetto State for more than 40 years. Headquartered in Anderson, South Carolina, Medshore provides medical transport in 17 counties in South Carolina and is the emergency 9-1-1 provide to Anderson, Barnwell and Chesterfield counties. Medshore has provided 9-1-1 response to Anderson County for more than 35 years.
Shore follows Medshore's company philosophy of community involvement and has been a fixture in the Anderson community for years. In addition to his role at Medshore, he also has served as the deputy coroner for the Anderson County Coroner's Office since 2007. He was selected as one of the 2017 "20 Under 40" class members by the Anderson Independent Mail. He also served on the Upstate Senior Network Group and the Upstate Champions' Committee, as well as currently serves on the Tri-County Tech College Paramedic Advisory Board.
During the years at Medshore, he focused on modernization of the agency and creating opportunities for the younger generation in EMS. In 2015, he began a logistic department in the Anderson operations, which developed strategies to improve efficiencies in staffing and supplies management. This allowed teenagers to work in the logistics department giving them the opportunity to learn more about EMS while creating cost efficiencies to the company. This program has produced EMTs that are now working on the ambulances.
"Josh's ideas and effort to implement his innovative programs have made a true difference at Medshore," said Greg Shore. "We have been able to position ourselves for the future because of the deployment, staffing and supply management strategies that the logistics department have spearheaded."
Shore holds an associate's degree in health science with a major in emergency medical technology from Greenville Technical College and is completing a bachelor's degree in emergency management this spring at Anderson University. In 2013, Shore completed the Ambulance Service Manager Certification from Fitch & Associates, the leading management training program for the EMS industry.
In 2017, Medshore Ambulance joined the Priority Ambulance national family of companies. For more information on Medshore, visit www.medshore.com. For more information on Priority Ambulance, visit www.priorityambulance.com.