Maricopa Ambulance now responding to 9-1-1 calls in the City of Scottsdale
February 19, 2018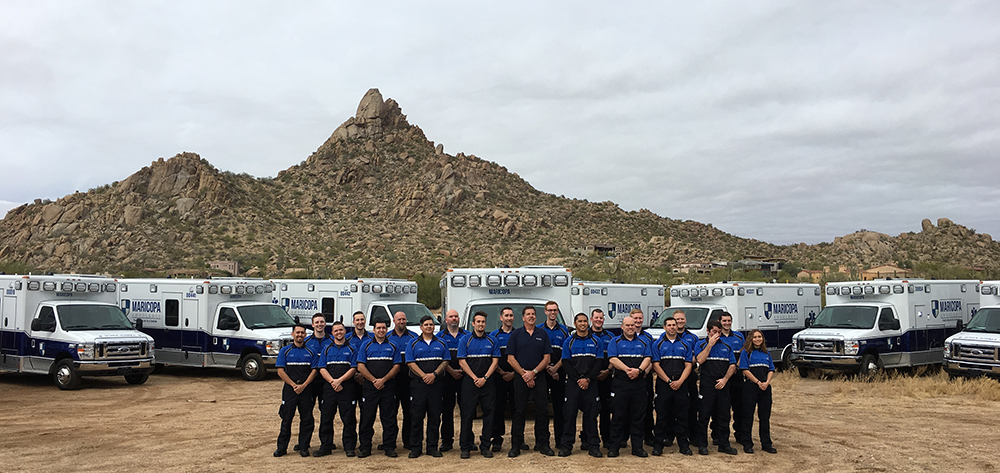 On Saturday at 8 a.m., a new ambulance provider Maricopa Ambulance began responding to emergency medical calls within the City of Scottsdale city limits.
"We have been working closely with Maricopa Ambulance's leadership team to plan every detail of this transition," said Scottsdale Fire Department Chief Tom Shannon. "We are certain that the transition of service will be seamless and uninterrupted, and their plan to provide comprehensive emergency coverage to the city is sound."
To prepare, Maricopa ambulances was staffed beginning Friday morning to make final checks on equipment and vehicles, as well as run test calls.
Maricopa Ambulance's new American-made Ford ambulances are strategically deployed within the Scottsdale EMS system to provide the most efficient, effective emergency response to the community using a process called system status management. System status management is the accepted industry best practice for high performance EMS systems, which uses historical emergency call data to continually reposition ambulances to anticipate where and when a call is most likely to occur.
Maricopa Ambulance has 14 ambulances ready to deploy in Scottsdale with state-of-the-art safety features, including lane departure/collision avoidance technology, StreetEagle safe driving performance monitoring and Opticom technology that communicates with traffic lights to clear traffic.
Maricopa Ambulance has transitioned or hired approximately 80 employees to serve Scottsdale. Each ambulance will be staffed with two EMTs, who will work closely with the Scottsdale Fire Department paramedic first responders to provide advanced life support equipment and supplies to firefighter paramedics as needed. Scottsdale Fire Department paramedics will ride along in the ambulance with the patient to provide a continuity of care from first response on the scene to delivery to a hospital emergency department.
"Our people and our ambulance fleet stand ready to provide exceptional service to the people of Scottsdale," said Maricopa Ambulance CEO Bryan Gibson. "In partnership with the Scottsdale Fire Department, our local leadership have spent the last weeks and months conducting extensive training with employees to ensure our agencies closely work together as a team and put into action on our high standards of patient care and friendly service."
On December 4, the Scottsdale City Council unanimously voted to select Maricopa Ambulance as its ambulance service partner following a competitive bid process. The three-year contract was approved by the Arizona Department of Health Services (ADHS) last week and has the option for two additional three-year renewals.
Maricopa Ambulance began operations in Maricopa County in October 2016 after receiving its certificate of necessity (CON) from the ADHS. The issuance of the CON allowed for a new choice in medical transport in Maricopa County, which was previously served by only one provider for a majority of the county.
Maricopa Ambulance is recognized as a Premier EMS Agency by the Arizona Department of Health Services and is a member of the Arizona Hospital and Healthcare Association, the Arizona Health Care Association and the Arizona Ambulance Association. For more information, visit www.maricopaambulance.com. Maricopa Ambulance is a member of the Priority Ambulance national family of companies. For more information, visit www.priorityambulance.com.