Medshore Ambulance Service receives American Heart Association's Mission: Lifeline EMS Recognition Award
July 20, 2017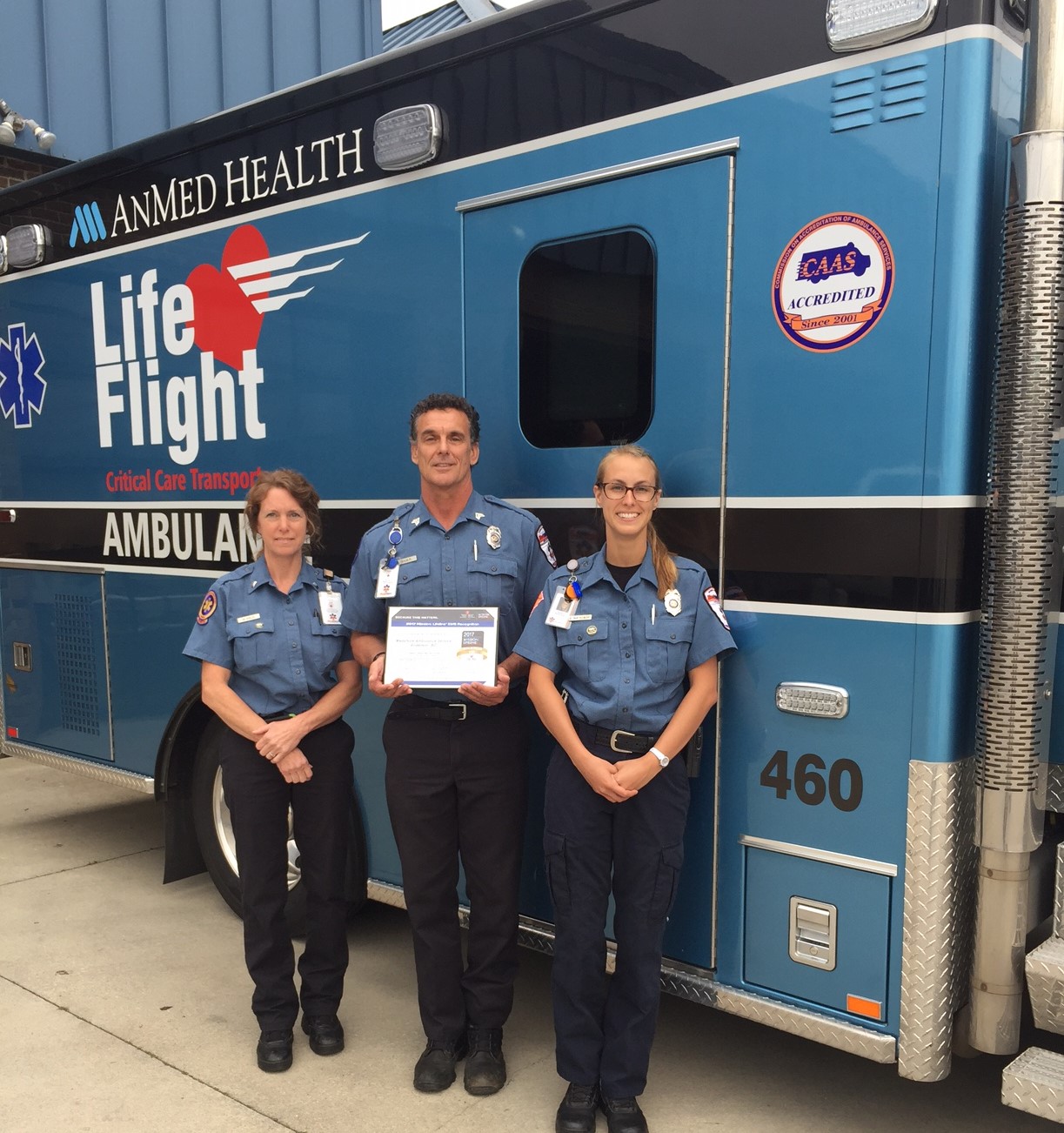 Medshore Ambulance Service has received the American Heart Association's Mission: Lifeline® EMS Gold Plus Award for implementing quality improvement measures for the treatment of patients who experience severe heart attacks.
Every year, more than 250,000 people experience an ST elevation myocardial infarction (STEMI) the deadliest type of heart attack caused by a blockage of blood flow to the heart that requires timely treatment. To prevent death, it's critical to restore blood flow as quickly as possible, either by mechanically opening the blocked vessel or by providing clot-busting medication.
Mission: Lifeline seeks to save lives by closing the gaps that separate these patients from timely access to appropriate treatments. Mission: Lifeline's EMS recognition program recognizes emergency medical services for their efforts in improving systems of care and improving the quality of life for these patients. Agencies that receive the Mission: Lifeline Gold award have demonstrated at least 75 percent compliance for each required achievement measure for two years.
"Medshore is proud to participate in Mission: Lifeline and to be recognized for the third consecutive year for our STEMI patient care," said Medshore CEO Greg Shore. "Our close collaboration with our partner hospital and regular training on the recognition and response to STEMI patients are key to reduce the time from first medical contact to intervention in a catheterization lab and, ultimately, to save lives."
Emergency Medical System providers are vital to the success of Mission: Lifeline. EMS agencies perform 12-lead ECGs which measure the electrical activity of the heart and can help determine if a heart attack has occurred. They also follow protocols derived from American Heart Association/American College of Cardiology guidelines. These correct tools, training and practices allow EMS providers to rapidly identify suspected heart attack patients, promptly notify the medical center and trigger an early response from the awaiting hospital personnel.
"Medshore is an instrumental partner in our success as an Accredited Chest Pain Center," said Kimberly Hill RN, BSN, CCCC, AnMed Health's chest pain center coordinator. "We have worked together to achieve significant results in improving chest pain and heart attack care. In a partnership with Medshore, we defined a Chest Pain Center Charter outlining our system's goals for cardiac care from 9-1-1 through discharge. We are in constant communication with the Medshore team to implement continuous quality improvement and feedback, which has lowered response times and improved patient outcomes.
"In addition, Medshore has partnered with us to help educate the community about early heart attack care and hands-only CPR. They are a vital part of our Chest Pain Center Team."
Through this partnership, AnMed and Medshore have achieved an average response of 68 minutes from EMS first medical contact on scene to intervention in the catheterization lab. This response time is well below the 90-minute established national standard. In 2016, Medshore transported 495 individuals experiencing chest pain, and 27 of those patients showed a STEMI heart attack response on a prehospital ECG.
"In a cardiac situation, time is critical to prevent heart muscle damage, and EMS professionals are often the first to begin providing medical care to these patients," said Hill. "If you believe you or your loved one is experiencing symptoms of a heart attack – tightness or pain in your chest or arm, shortness of breath, dizziness or fatigue – call 9-1-1 immediately. Statistics show better outcomes for cardiac patients when they call 9-1-1 and receive treatment by EMS professionals en route to the hospital."
"EMTs and paramedics play a vital part in the system of care for those who have heart attacks," said James Jollis, M.D., Chair of the Mission: Lifeline Advisory Working Group. "Since they often are the first medical point of contact, they can shave precious minutes of life-saving treatment time by activating the emergency response system that alerts hospitals. We applaud Medshore Ambulance Service for achieving this award that shows it meets evidence-based guidelines in the treatment of people who have severe heart attacks."
About Medshore Ambulance Service
Founded in 1976, Medshore Ambulance Service is the largest privately owned ambulance service in South Carolina and has provided medical transport services to the Palmetto State for more than 40 years. Medshore serves more than 100,000 patients in South Carolina each year with 100 emergency vehicles and 520 employees.
Headquartered in Anderson, South Carolina, Medshore provides medical transport in 17 counties in South Carolina and is the emergency 9-1-1 provide to Anderson, Barnwell and Chesterfield counties. Medshore is the only ambulance service provider in South Carolina to achieve accreditation by the Commission on Accreditation of Ambulance Services (CAAS), the industry's gold standard of operational excellence. Medshore is a member of the Priority Ambulance national family of companies.
About Mission: Lifeline
The American Heart Association's Mission: Lifeline® program helps hospitals and emergency
medical services develop systems of care that follow proven standards and procedures for acute coronary syndrome patients. The program works by mobilizing teams across the continuum of care to implement American Heart Association/American College of Cardiology clinical treatment guidelines. For more information, visit heart.org.