Maricopa Ambulance hires management team, starts operations in Maricopa County
September 27, 2016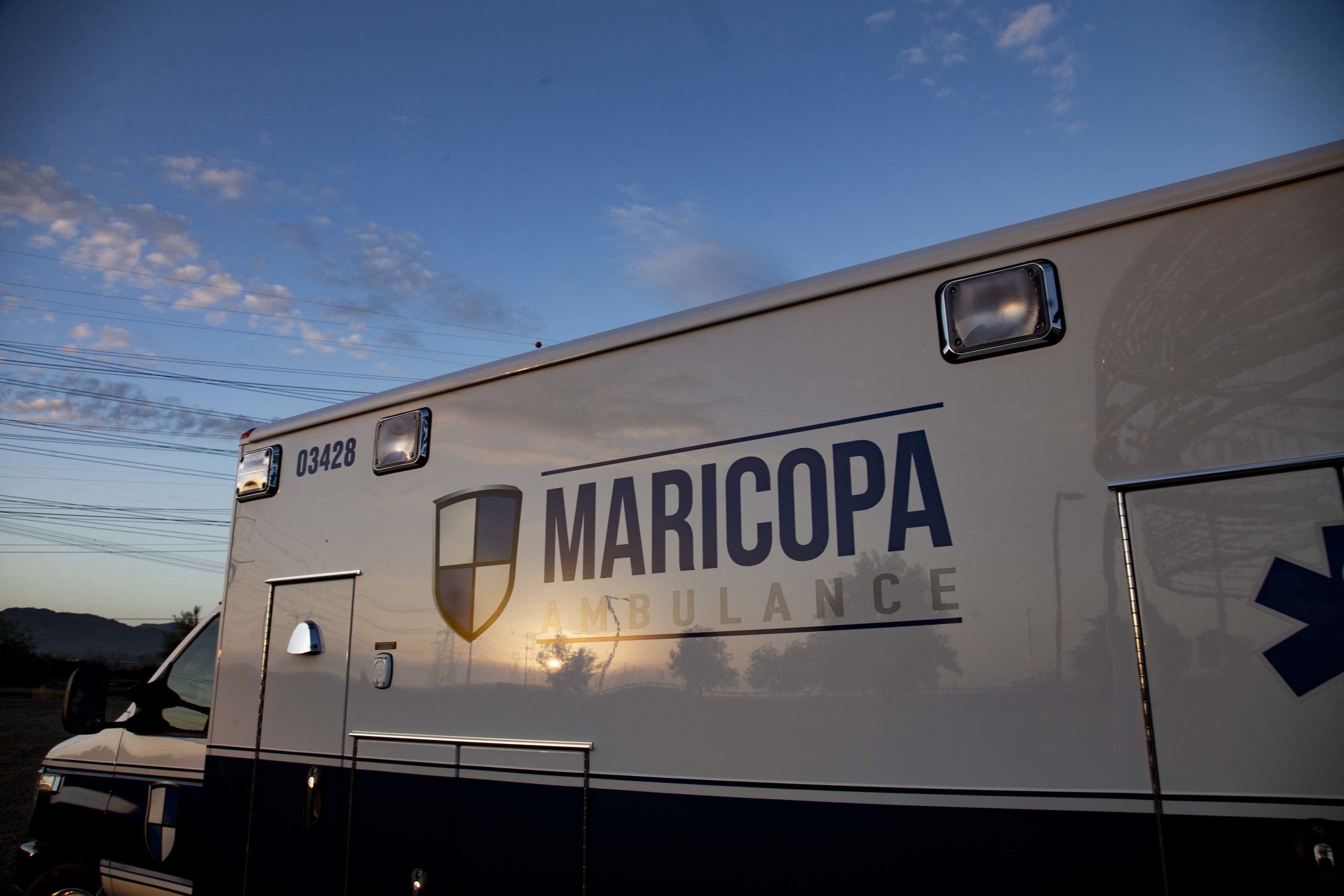 Maricopa Ambulance announced today the hiring of its local management team and is actively seeking paramedics, EMTs, dispatchers and nurses. Medical transport to area hospitals and medical facilities will begin in early October.
Jason Payne, an emergency medical services manager with more than 20 years of experience in local ambulance operations, joins the Maricopa Ambulance team as director of operations. Michelle Angle, a marketing and business development expert with 15 years in the health care market, has been hired as director of marketing and business development.
Within the next five years, Maricopa Ambulance plans to expand to 400 employees.
"The talent pool in Maricopa County is exceptionally strong," CEO Bryan Gibson said. "Jason and Michelle bring expertise and local knowledge to our team. At Maricopa Ambulance, we are seeking qualified individuals who align with our mission of providing high-quality patient care and a dedication to serving the community. We are ready to invest to attract the best employees."
Maricopa Ambulance received its certificate of necessity (CON) from the Arizona Department of Health in July. Maricopa County has more than 4 million residents and its more than 9,000 square miles include numerous municipalities and thousands of public and private health care facilities.
"Maricopa Ambulance's fleet of state-of-the-art vehicles that are equipped with the latest medical technology will offer health care facilities a new, high-quality option for transport in the market," Gibson said. "The community and medical partners in the area will benefit from an additional choice for medical transport."
Payne will oversee Maricopa Ambulance's day-to-day operations. A Phoenix native, Payne began his career at Southwest Ambulance in 1996 and joins Maricopa Ambulance with more than 20 years of experience in Maricopa County. During his time at Southwest Ambulance, Payne was honored with the outstanding community service award in 2002 and 2004. He was elected by his peers to serve as the president of the IAFF Local I-60, the company's employee labor union, from 2006 to 2011.
Angle, a lifelong Arizona resident, will handle community outreach and building trusted relationships with local hospitals and medical facilities. Angle most recently served as vice president of business development for the international social media network, Quepasa Corporation. Previously, she served for nearly a decade in business development and government relations roles with Arizona ambulance companies Rural/Metro Corporation, PMT Ambulance and American Ambulance.
Maricopa Ambulance, located in Scottsdale, is owned by the national ambulance company, Priority Ambulance.
About Maricopa Ambulance
Located in Scottsdale, Arizona, Maricopa Ambulance is a subsidiary of Priority Ambulance and managed by a team of seasoned professionals with decades of emergency medical services experience in Arizona and across the country.
About Priority Ambulance
Based in Knoxville, Tenn., Priority Ambulance provides the highest level of clinical excellence in emergency and nonemergency medical care to the communities it serves. Throughout its national service area, more than 1,000 highly trained paramedics and EMTs staff a fleet of more than 250 state-of-the-art vehicles with the latest medical equipment and technology.
Priority Ambulance provides emergency and nonemergency medical transport options to communities in Arizona, Tennessee, Alabama, New York, Pennsylvania, Indiana and Georgia. Operating as Priority Ambulance, the company serves Knox, Loudon and Blount counties in East Tennessee. Priority Ambulance operates as Kunkel Ambulance in Upstate New York; Trans Am Ambulance in western New York and Northwestern Pennsylvania; Shoals Ambulance in Alabama; Seals Ambulance in Indiana; and Central EMS in Georgia.