PRIORITY AMBULANCE NOW TRANSPORTING 100,000 PATIENTS PER YEAR
June 15, 2015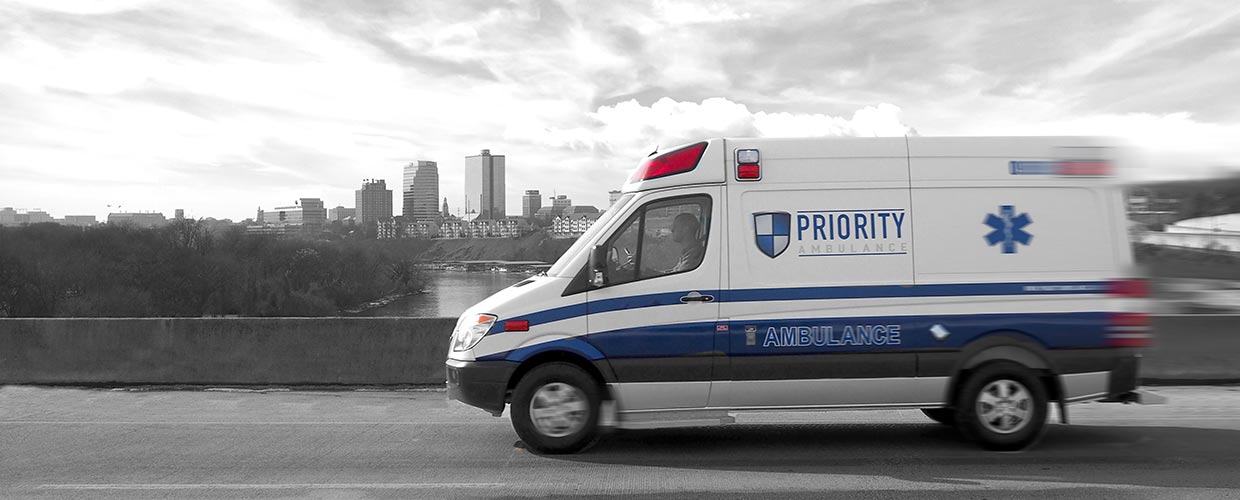 National ambulance startup in 2014 expands rapidly
National ambulance company Priority Ambulance has logged a significant milestone: The company currently transports more than 100,000 patients per year across its six-state footprint.
"When we started our company last February, our goal was to raise the clinical standards of medical transport and give patients a better choice for ambulance service in their communities," Priority Ambulance CEO Bryan Gibson said.  "As our company continues to grow and expand, we are thrilled to be able to extend our high-quality patient care to more communities across the country."
Headquartered in Knoxville, Tenn., Priority Ambulance was founded in February 2014 by Gibson, an emergency medical services entrepreneur with more than 30 years of experience in managing national ambulance operations. Today, the company includes more than 600 employees and 100 ambulances in six states.
"Because of the growth that our current network of ambulance companies has seen in the past year, we are committed to continuing that momentum and are actively seeking expansion, partnership and growth opportunities," Gibson said. "We will be making a very exciting announcement in the coming weeks about a significant expansion to enlarge our patient base and service area."
Priority Ambulance has grown with a mix of startup expansions into new markets and acquisitions of existing companies. In addition to its national headquarters, Priority Ambulance established a regional office in East Tennessee to serve the counties of Knox, Loudon and Blount. In January 2015, Priority Ambulance became the exclusive emergency ambulance provider for Loudon County, and since beginning service has improved emergency response times by 40 percent in the county.
Priority Ambulance operates as Shoals Ambulance and is the official emergency provider for the City of Florence and Lauderdale and Franklin counties in Alabama. Shoals Ambulance was owned by Gibson since 2012 and joined the national Priority ambulance network when the company was formed in 2014. Shoals Ambulance has expanded to Birmingham, Ala., and Jefferson County.
"As we looked at acquiring companies, we found that some of these businesses had served their areas for decades, and the leadership team was deeply ingrained within the fabric of the community," Gibson said. "When we brought new companies into the Priority Ambulance network, we retained company names, identities and management teams to maintain that connection."
Priority Ambulance's initial acquisitions included two family-owned businesses in New York: Kunkel Ambulance, which operates in the Mohawk Valley area in Upstate New York, and Trans Am Ambulance Services, which serves counties in Western New York and Northern Pennsylvania. Both ambulance companies had been operating in those communities for decades.
In January 2015, Priority Ambulance announced the acquisition of Seals Ambulance, a family-owned company serving communities in Indianapolis and Central Indiana. The company is celebrating its 50th anniversary in 2015, and transports nearly 45,000 patients in the region each year.
Seals Ambulance President Randal Seals said, "Priority Ambulance leadership is extremely supportive of our mission to provide the best emergency medical care and foster trusting relationships within our community. As part of a national network, we have access to resources that will ensure our ambulance service stays on the cutting-edge of medical technology and customer service for the next 50 years."
Priority Ambulance has plans to expand into new markets in 2015 and is supported in its growth by Enhanced Equity Fund, a private equity firm specializing in investment in the health care industry and managing approximately $600 million in committed capital.
In late 2014, the company, operating as Maricopa Ambulance, submitted an application to the Arizona Department of Health for a certificate of necessity (CON) to operate in Maricopa County. The application recently passed administrative and substantive review and is moving forward to a hearing.
Priority Ambulance offers emergency 9-1-1 service to municipalities; advanced life support and basic life support medical transport; special event coverage for sports facilities and concert venues; public education and public safety training; and third party medical billing services. For more information, visit www.priorityambulance.com.
About Priority Ambulance:
 Based in Knoxville, Tenn., Priority Ambulance provides the highest level of clinical excellence in emergency and nonemergency medical care to the communities it serves. Throughout its national service area, more than 600 highly trained paramedics, EMTs and telecommunicators staff approximately 100 state-of-the-art ambulances with the latest medical equipment and technology.
Priority Ambulance provides emergency and nonemergency medical transport options to communities in Tennessee, Alabama, New York, Pennsylvania and Indiana. Operating as Priority Ambulance, the company serves Knox, Loudon and Blount counties in East Tennessee. Priority Ambulance operates as Kunkel Ambulance in Utica, N.Y.; as Trans Am Ambulance in Olean, N.Y.; as Shoals Ambulance in Alabama; and as Seals Ambulance in the Greater Indianapolis area.