PRIORITY AMBULANCE HIRES LOUDON COUNTY EMS DIRECTOR
April 9, 2015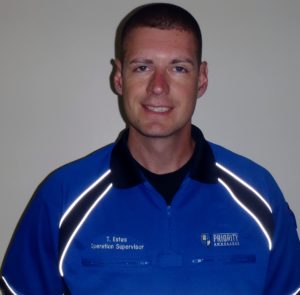 Priority Ambulance has hired Travis Estes as EMS director of Loudon County to manage ambulance crews and oversee patient care. Jennifer Stanley will serve as assistant EMS director to further increase accessibility to Loudon County officials, residents and the medical community.
"Travis' passion for patient care and varied expertise will be an invaluable asset in leading our Loudon County operation," said Rob Webb, vice president of Tennessee operations for Priority Ambulance. "We are dedicated to putting in place the best local management team. Travis and Jennifer are both lifelong Loudon County residents dedicated to ensuring their friends, family and neighbors receive the highest standards of medical care."
"Travis is a great addition to our Loudon County team because he shares Priority Ambulance's passion to giving back to the community," said Director of Operations Dennis Rowe. "I am confident that Travis will lead our team to continue to put our motto into action: 'Our Community. Our Priority.'"
As EMS director, Estes will be charged with overseeing Loudon County paramedics and EMTs, monitoring efficiency and response times and conducting community outreach through events and public education initiatives. Estes comes to Priority Ambulance with 10 years of experience working at an ambulance service and 10 years of experience as a flight paramedic with UT LIFESTAR.
"This is my home county where I grew up, where I still live and where I got my first EMS job," Estes said. "It takes me full circle and offers the opportunity to give back to the community where I have friends and family. I couldn't have asked for a better opportunity."
Estes knew he wanted to serve in the medical services industry at a young age. Estes' relationship with his brother, Eric, who was born with muscular dystrophy, was the driving force for him to enter the emergency medical field.
"I had always taken care of him in conjunction with my parents," Estes said. "It changes your outlook and perspective and allows you to focus on the things that are important versus the things that are not. Taking care of people is the most important thing. It's always been a part of me to be a caregiver and give back."
Estes graduated from Lenoir City High School in 1991 and immediately was hired by the school as his brother's caregiver for the following school year. Eric Estes passed away in 1993, and Travis Estes embarked on his career path.
Estes joined Loudon County Fire & Rescue in 1992 as a firefighter. After earning his EMT license in 1994, he began working full-time for Fort Sanders Loudon EMS, which provided the county with 911 ambulance transport at that time. He concurrently went through the fire academy and worked full-time as a firefighter with the Lenoir City Fire Department.
While working with the EMS agency, Estes twice was promoted to supervisor and captain. He continued in his role as captain when the ambulance service transitioned to Rural/Metro in 2003.
In 2005, Estes joined UT LIFESTAR as a flight paramedic and, in 2011, became the base manager at the Sweetwater location, managing 12 employees. Estes was in charge of daily operations, maintenance, community outreach and speaking engagements before taking the position at Priority Ambulance.
"My goals as EMS director are to provide the best level of patient care and get the community back involved in the ambulance service," Estes said. "We'll make this ambulance service something the community can be proud of and support."
Throughout his career, Estes has received several national awards for his lifesaving efforts and community outreach. In 1998, Estes was selected by EMS Magazine as a runner-up for the national Paramedic of the Year award. He was selected for his dedication to serving his brother and going above and beyond the call of duty in a bus wreck in Loudon County. Estes was the supervisor and first paramedic on the scene of the mass casualty incident in 1998. With assistance from helicopters and ambulances from multiple counties, paramedics were able to triage, treat and transport 24 patients in 40 minutes.
In 2000, Estes was honored by the Tennessee Emergency Medical Services for Children for organizing community days for Loudon County schools. The events would gather fire trucks, ambulances, helicopters, police cruisers and other emergency vehicles in a festival-like atmosphere to increase the comfort level with first responders in the county.
Additionally, Estes was honored in 2005 with the national Star of Life Award from the American Ambulance Association. Estes was lauded for his lifesaving efforts at an annual ceremony in Washington, D.C., that recognizes one or two EMTs or paramedics from each state.
Estes resides in Loudon County with his wife, Jennifer, and children Cory, Emily and Caleb.
About Priority Ambulance:
Based in Knoxville, Tenn., Priority Ambulance provides the highest level of clinical excellence in emergency and nonemergency medical care to the communities it serves. Throughout its national service area, more than 600 highly trained paramedics, EMTs and telecommunicators staff approximately 100 state-of-the-art ambulances with the latest medical equipment and technology.
Priority Ambulance provides emergency and nonemergency medical transport options to communities in Tennessee, New York, Alabama and Indiana. Operating as Priority Ambulance, the company serves Knox, Loudon and Blount counties in East Tennessee. Priority Ambulance operates as Kunkel Ambulance in Utica, N.Y.; as Trans Am Ambulance in Olean, N.Y.; as Shoals Ambulance in Alabama; and as Seals Ambulance in the Greater Indianapolis area.