ROB WEBB JOINS PRIORITY AMBULANCE AS VICE PRESIDENT OF TENNESSEE OPERATIONS
March 3, 2014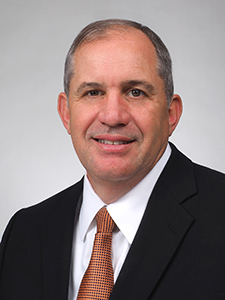 Rob Webb has joined Priority Ambulance as part of its corporate management team. Webb, who will serve as vice president of Tennessee operations, will oversee the company's emergency and nonemergency medical transport services in Knox County and the surrounding areas.
"Priority Ambulance is fortunate to have a skilled, experienced manager like Rob to manage our operations in Tennessee," said Priority Ambulance President and CEO Bryan Gibson. "Rob has helped shape the industry on the regional and state level in Tennessee, serving on the state EMS board for two terms. He has strong ties to this community and will help advance our mission to put the community's health and well-being as our No. 1 priority."As the former division general manager of Rural/Metro of East Tennessee, Webb has more than 35 years of experience managing emergency service operations in Tennessee. Webb began his career in law enforcement in the Blount County Sheriff's Department after obtaining an associate of science degree in criminal justice from Walters State Community College. He found his true calling in emergency medical services management and is a licensed paramedic and holds various emergency certifications.
Webb is involved in the Tennessee community and professional associations. He was appointed to two four-year terms to serve on the Tennessee Emergency Medical Services Board by two different governors. He is a past president of the Tennessee Ambulance Service Association, a past vice president of the East Tennessee EMS Directors Association and a member of the East Tennessee Chapter of American Healthcare Executives. He was also the recipient of the American Red Cross Hero Award in 2005.
In 2006, he was elected to the Blount County Board of Education and was reelected in 2010. He is a past chairman of this board. Webb served as the district chairman of the Boy Scouts of America and is an Eagle Scout.
Webb is also an active member of Central Point Baptist Church in Rockford. He lives in Seymour with his wife, Angie and their daughter, Rachel. The Webbs have two foster children that they are in the process of adopting.
Earlier this month, medical transport company Priority Ambulance announced the establishment of its corporate headquarters in Knox County, bringing more than 50 jobs to the area. The company currently employs more than 300 licensed paramedics and EMTs in Tennessee, operating as Priority Ambulance, and in Florence and Birmingham, Alabama, operating as Shoals Ambulance. Priority Ambulance also operates a local office with 15 state-of-the-art Mercedes-Benz ambulances providing ambulance service to Knox County and surrounding areas.
Several other familiar faces join Webb at Priority Ambulance with a background in managing ambulance service in Knox County. Dennis Rowe, former Rural/Metro of East Tennessee market general manager, will head the company's Knox County ambulance operations. Gary Morris will oversee Priority Ambulance's emergency and nonemergency communications. Former Knox County Commissioner John Mills has also joined the Priority Ambulance team as the director of government relations, and his wife, Charlotte Mills, will serve as customer service manager.
Priority Ambulance's corporate headquarters is located on Callahan Drive in North Knoxville. Priority Ambulance recently opened a regional branch in Scottsdale, Ariz., to manage its West Coast operations.
To schedule a transport, call 865-688-4999.
About Priority Ambulance
Based in Knoxville, Tenn., Priority Ambulance provides the highest level of clinical excellence in emergency and nonemergency medical care to the communities it serves. Throughout its national service area, more than 300 highly trained paramedics, EMTs and telecommunicators staff state-of-the-art ambulances with the latest medical equipment and technology.
# # #
For more information,
Contact: Amanda Shell
Moxley Carmichael
(865) 544-0088