NEW AMBULANCE COMPANY LOCATES CORPORATE HEADQUARTERS IN KNOX COUNTY
February 19, 2014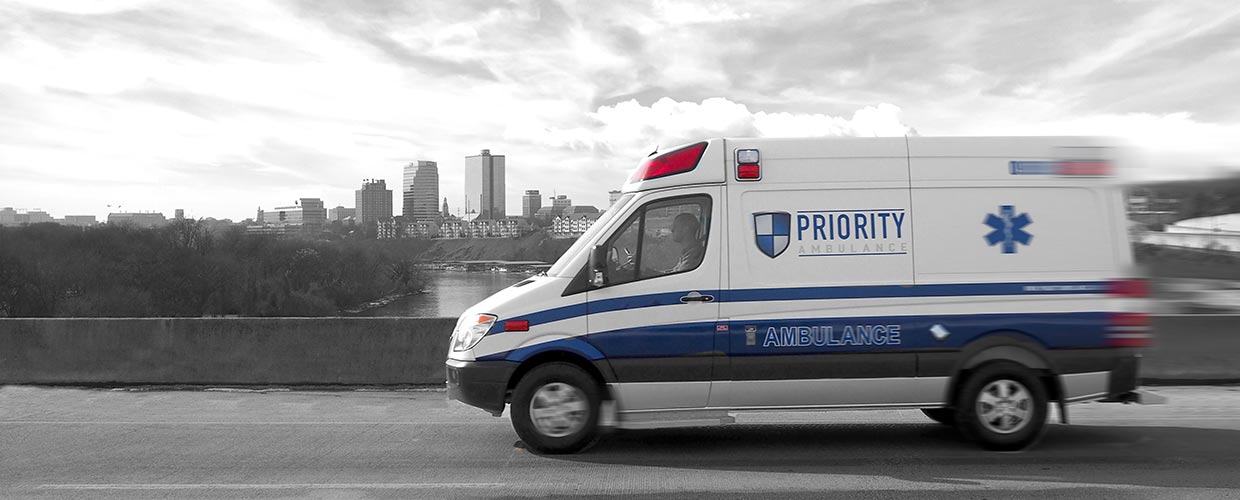 A new medical transport company, Priority Ambulance, announced today the establishment of its corporate headquarters in Knox County, bringing more than 50 jobs to the area and several familiar faces among its leadership team.
Priority Ambulance President and CEO Bryan Gibson has more than 25 years of experience managing ambulance operations. He is the former chief operating officer of Rural/Metro Corporation and general manager of Rural/Metro of East Tennessee, as well as the owner of several other ambulance companies. He said the choice to locate his new company's headquarters in Knox County was an easy one.
"Tennessee was my home for many years, and I have an emotional connection to this area," Gibson said. "Knox County is a great place for our employees to live, work and raise their families, and I already knew the caliber of dedicated, talented managers, EMTs and paramedics that I would be able to assemble in East Tennessee."
Priority Ambulance's national mission is to raise the bar of clinical excellence in emergency and nonemergency medical care. To accomplish this goal, Priority Ambulance has invested in cutting-edge technology and expert staff. The company currently operates more than 45 customized Mercedes-Benz ambulances outfitted with the latest medical technology and staffs more than 300 licensed paramedics and EMTs in Tennessee, operating as Priority Ambulance, and in Florence and Birmingham, Alabama, operating as Shoals Ambulance.
Knox County will serve as the corporate headquarters for Priority Ambulance as it proceeds with plans to expand services.
At the corporate management level, Steve Blackburn joins Priority Ambulance as chief operating officer, and Kristi Ponczak will serve as chief financial officer. Both are former high-level managers at Rural/Metro Corporation.
"We've recruited a talented corporate executive team with years of experience in managing national emergency medical service," Gibson said. "If you want the absolute best care for you and your loved ones, call Priority Ambulance."
Priority Ambulance's corporate headquarters is located on Callahan Drive in North Knoxville. Priority Ambulance recently opened a regional branch in Scottsdale, Ariz., to manage its West Coast operations. Knoxville public relations company, Moxley Carmichael, now is representing Priority Ambulance in all markets.
In addition to its corporate headquarters, Priority Ambulance will also operate a local office providing ambulance service to Knox County and surrounding areas. Priority Ambulance has significantly invested in Knox County by purchasing 15 new Mercedes ambulances to offer basic life support, advanced life support and critical care transport options to Knox County residents.
"Our community is our priority, and we've already received a great response from this area," Gibson said. "We offer employees the opportunity to grow their careers as our company continues to expand. With the team of expert EMTs and paramedics we have recruited, we are confident we'll be able to provide the highest level of medical care available to our service areas."
Supporting community causes and promoting awareness of public health issues and services are top priorities for the company, according to Gibson. In December, Priority Ambulance donated $5,000 to "Wreaths Across America," a charity championed by Knox County Mayor Tim Burchett to place a wreath on the grave of every veteran in East Tennessee. Gibson said that is just the start of his company's community service.
"Knox County is Priority Ambulance's new home, and we know we best serve our community when we are connected to the causes and organizations that matter to our patients and their families," Gibson said.
Several other familiar faces join Priority Ambulance with a background in managing ambulance service in Knox County. Dennis Rowe, former Rural/Metro of East Tennessee market general manager, will head the company's Knox County ambulance operations. Gary Morris will oversee Priority Ambulance's emergency and nonemergency communications. Former Knox County Commissioner John Mills has also joined the Priority Ambulance team as the director of government relations, and his wife, Charlotte Mills, will serve as customer service manager.
To schedule a transport in Knox County, call 865-688-4999.
About Priority Ambulance
Based in Knoxville, Tenn., Priority Ambulance provides the highest level of clinical excellence in emergency and nonemergency medical care to the communities it serves. Throughout its national service area, more than 300 highly trained paramedics, EMTs and telecommunicators staff state-of-the-art ambulances with the latest medical equipment and technology.
# # #
For more information, contact:
Amanda Shell
Account Executive
Moxley Carmichael
[email protected]
865-255-0661